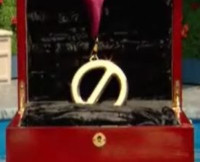 Big Brother 13 never rests or takes the weekend off (which means neither do we!). The pressure was really on today after deals were made with the new HoH and no one was willing to throw the competition like in past seasons. Now that the results are in we'll hear lots more scheming as we work toward Monday's Veto Ceremony. Trust me, these HGs know how to do some scheming.
Read on to find out who won and what that means for the game this week.
Big Brother 13 Week 4 Power of Veto results:
Brendon has won the Veto Competition.
Daniele is upset because she really wanted Brendon to go home this week. She doesn't want to have to nominate Jordan in his place because then she'll have them coming after her next week. Daniele says she has an "agreement," not a "deal" with JeJo about keeping each other safe. There are a lot of trust issues with Shelly as well right now so she might want to back off and lay low for a little while.
Click here to start your Free 3-Day Trial of Big Brother Live Feeds!
The players in this week's PoV competition were Daniele as HoH with Rachel and Brendon as the nominees. Then Adam, Porsche, and Jeff were selected to play as well. Lawon was the host.
The Veto ceremony will be held in the next few days, probably Monday, so we'll soon know whether or not the power will be used. Stay close by and we'll let you know as soon as that happens.
What do you think of the PoV Comp results?