Kalia Booker may have slept a lot in the Big Brother house but when she talked, she held nothing back which is one of the reasons I liked her. She was the same way when I interviewed her.  Check it out.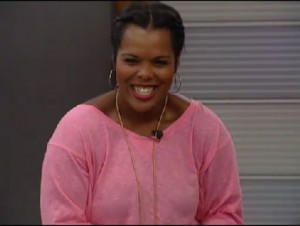 Chloe: Kalia, you fought hard to remain in the house this week and looked shocked when Adam decided not to use the veto, what was going through your head?
Kalia:  What was going through my head was "Adam is an idiot." The argument I had was logical and sound. Big Brother is about numbers and Adam had a chance to have zero adversaries and he didn't take it.
Chloe:  Do you put any blame on Porsche since she opened Pandora's Box and put the duos back in play?
Kalia:  I mean, of course. We literally were in a perfect position in the house. There was no reason to open Pandora's box except for the curiosity and financial pay off. But being so close to the end of the game, there was nothing in that golden box that would be worth risking half a million dollars.
Chloe:  What are your plans once you get back home?
Kalia:  Resume my life! I have a really awesome life and that was the hardest thing to leave behind and I really look forward to getting back into the swing of things. Getting back to writing, seeing my family and friends, and seeing what the future has in store for me.
Chloe:  What is your biggest regret in the game?
Kalia:  I try very hard to live my life without any regrets, you can't redo it so why bother? My only regret is that I got evicted and didn't win.
Chloe:  What was your biggest move in the game?
Kalia:  My biggest move in the game was leaving the safety of the vets to play my own game and getting some big players in the game – me or my alliance got rid of Brendon (twice) and Jeff. Hands down, the reason I become the biggest threat was the fast forward double eviction.