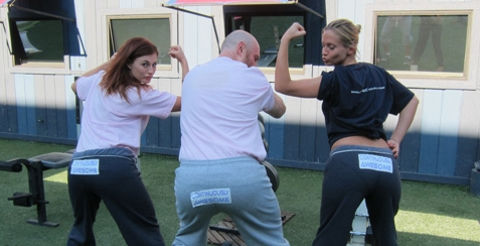 Big Brother 13 finale arrives on Wednesday night with a 90-minute installment (9:30PM ET/PT) and it looks like we could be in for an exciting night. We'll get the pathetically short-lived first round endurance competition played out, an underwater second round, a live third round most likely featuring a quiz, the jury interrogation, and most importantly the big jury vote for who wins this season and receives a half-million dollar prize.
Since we're down to our final 3 HGs it's a good time to start looking at how those final jury votes could play out. This is purely speculation, but it's grounded in the events to date so it's a worth a look.
Rachel and Porsche have won the first two rounds of the final HoH competition and are allegedly going to take each other to the Final 3. Allegedly. Both women could be playing the part in hopes the other takes them to the end should either lose, but we probably won't know for sure until it happens. All the same, we'll review all three possible combinations of the Final 2 and see how things could turn out.
Scenario 1: Rachel and Porsche in the Final 2
Rachel and Porsche have told each other they'll take the other no matter who wins round three. I believe this is the most likely scenario. If it really happens, Rachel could have her toughest challenge to secure the votes, but I still think she can do it.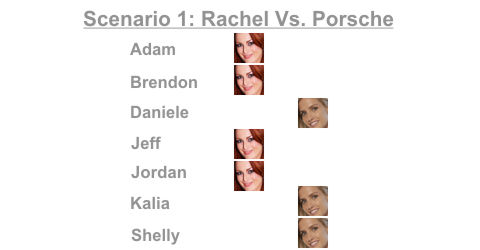 Rachel could win this four to three. Jeff, Jordan, and Brenchel are a given. Kalia and Shelly for Porsche should be a lock. Daniele left on better terms with Porsche, so I've put her in Porsche's column, but considering Daniele's previous comments on voting for the best competitor she could flip to Rachel especially if Rachel wins round 3.
Adam is a mixed bag and could be the pivotal vote. He told Jordan last week that he's voting for Rachel even if she evicts him and especially if Porsche evicts him. Over the weekend he told Rachel he's going to vote for her even if she doesn't keep him (why would you say that, Adam?!). Later he told Porsche he'll be influenced by who wins the last round. Now his big plan is to tell both Rachel and Porsche that they will lose his vote if he's evicted. I'm calling his bluff. Rachel is a longtime Big Brother fan like Adam while Porsche hadn't watched the show before. He'll want to protect the "fan/competitor wins" angle. Adam will vote for Rachel.
Rachel wins 4-3 +/- 1.
Update: I know I said Shelly's vote would be a lock for Porsche, but the more I thought about it, the more I doubted it. I couldn't justify the why. But we do know Shelly resents Porsche for her eviction due to Porsche opening Pandora's Box. She told us that in our interview with her. Would Shelly award $500K to someone she felt was a knucklehead and got her evicted? I think not. As such, I'm moving Shelly's vote to Rachel's column.
Rachel wins 5-2 +/- 1.
Scenario 2: Rachel and Adam in the Final 2
If Rachel wins round 3 on Wednesday night then I think she should take Adam. This is her easiest win scenario and here's why.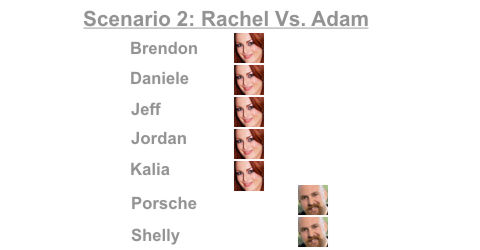 Again, Jeff, Jordan, and Brendon are gimmes for Rachel. Shelly will have Adam's back. Porsche could be irked at Rachel for not taking her to the Final 2 and vote Adam. That leaves Daniele and Kalia.
Yes, Rachel screwed up with that "a cow can't change its spots" comment in her goodbye message to Kalia, but based on her reaction I'm not sure she got it. Kalia kinda seemed to think Rachel had screwed up the saying rather that doing it intentionally. Then again she might have just been covering and was rightfully offended. If that happens she could flip her vote to Adam, but then again Kalia called Adam the worst player ever. Speaking of, Daniele also called Adam the worst player ever. (Apparently, if you don't act to save Daniele or Kalia, then you're the worst player ever while voting out Jeff makes you the best…) And yes, Rachel screwed up again by calling names during a goodbye message. But if Daniele has had time to get over that and maintains her "Adam = worst" perspective, then she'll vote for Rachel.
Rachel wins 5-2 +/- 1.
Scenario 3: Porsche and Adam in the Final 2
If Porsche wins and bails on her deal with Rachel then we'll have Adam and Porsche at the end. Here I'd say Adam has his big chance to win.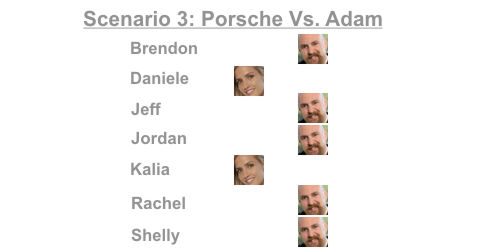 Adam flipped sides like it was his job this summer, but he ended up on the side with the most Jury votes in this scenario. Adam didn't use the Veto which would have kept Kalia and evicted Jordan. That helps secure him votes with the Vets alliance. Better yet for Adam, it won't be his fault Rachel was sent to Jury. Adam will pick up Jeff, Jordan, Rachel, and Brendon. Just like before, Shelly will have Adam's back. Meanwhile Daniele and Kalia, still hating on Adam, will vote against him.
Adam wins 5-2.
There are my predictions. Rachel could win no matter who her opponent is if she makes it to the very end. Porsche will probably lose no matter who she faces in front of the Jury. Adam would have a chance, but only against one of them.
If Rachel wins Round 3 then she picks who gets $50K. If Porsche topples Rachel, then she'll get to hand out some cash instead, but this time it'll be $500K.
Wednesday's Big Brother 13 finale should be intense!