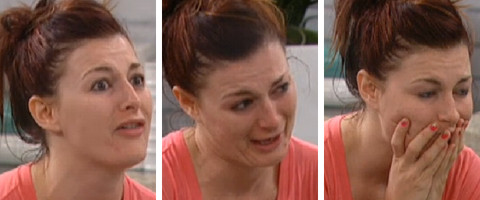 Fire up your Live Feeds and check out the first great fight of the season! Last night on Big Brother, about thirty minutes before BBAD started so you won't be able to watch it there, Rachel and Cassi sat down in the Have-Not Room and things got ugly.
Flashback to 8:27 PM on Sunday (7/17) on Cams 1 & 2. Cassi sits down with Rachel and says she wants to know what's going on and to clear the air between them. Rachel has other ideas. While Cassi remains calm Rachel quickly resorts to Emotional Rachel raising the volume and turning defensive.
Cassi asks what's causing the grief between them and Rachel accuses Cassi of campaigning against Brenchel and Jeff & Jordan. Cassi claims she's been totally honest with them (ehh, that's kinda tough to claim). Cassi says she isn't trying to rally the Newbs against the Vets. Neither can name names when it comes to backing up their "I've been told" statements. Rachel says Cassi has poor game play with her complaining and accuses her of pre-teen girlish behavior.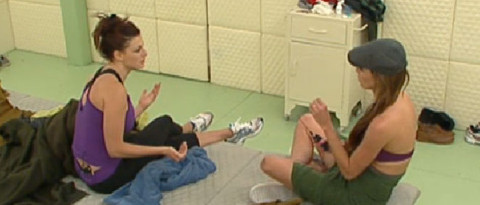 Things get really entertaining when Cassi says Rachel doesn't like her because she's a girl (8:33PM BBT). Rachel gets defensive and reminds her that she is a girl, so why would she not like someone because of that. Uhh, because you hate any girl in the game you don't feel you can control or are better than. We all learned that in Rachel 101 last summer. The argument continues with wheels spinning and accusations flying.
Big Brother Live Feed Flashback time:
July 17, 2011 @ 8:27PM on Cameras 1 & 2
Uncensored Live Feeds Free 3-Day Trial – Sign-up Now
The dagger moment hits 8:37 when Cassi has finally had enough. Cassi gets up, tells Rachel she's catty, explains how she though Rachel got a bum deal last season, but now sees that everyone is right about her. She takes a parting shot with "I get it absolutely. You're a catty, catty girl. Ugly person inside," and walks out as Rachel just sits there on the Have-Not bed speechless for a good ten seconds before following her out in to the house and wanders around stunned at what just happened.
Our fun doesn't stop there though. Rachel grabs Jordan and heads to the HoH Room for a crying session at 8:47PM BBT. Who needs enemies like Cassi when you've got friends like Jordan! Jordan tells Rachel the house is getting tired of her behavior and attitude. "Your mouth… is going to get you in trouble," Jordan tells Rachel. Try not to say anything around other HGs, Jordan suggests. "You come across as… as kinda bitchy."
Rachel's pity party lasts over an hour and ends with Bookie telling her this is the girl he fell in love with and she's never going to change. That might be the most terrifying part of the night, but perfectly sums up the pair.
I'm expecting more events like this through the week as Cassi knows her ticket is punched and she's heading for imminent eviction. Watch it all on the Live Feeds!