Matt Hoffman (BB12) returns with his review of the latest Big Brother episode. You'll find him here at BBN each Thursday & Friday all season. Read Matt's past articles.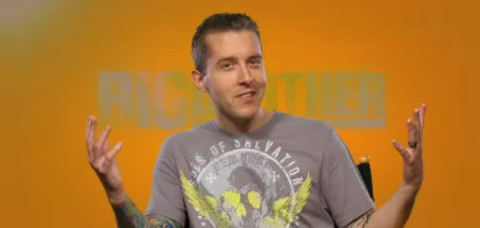 Based on recent comments that I have received on my write-ups, I'm beginning this week's recap with a disclaimer that remains valid throughout the entire season:
I do not legitimately "hate" anyone on "Big Brother 13". I am personal friends with several members of the cast, so I am not "jealous" that they are on and that I am not. I am quite happy for those that got selected, in fact. My brand of humor and writing style is snide, cynical, and sarcastic in a purely non-serious/ball-busting manner. It is your choice to either read my recaps or continue to be an ass-face.
Allllllrighty – now that that's out of the way, let's get started with the Wednesday night episode of "The Brenchel Show" "Big Brother"!…
Jordan's nominations have been made and Rachel (wearing her best kabuki gown…yeah, go back and look…super weird) expresses her distaste for the people selected. Adam runs upstairs to get his orders from Officer JeJo who tells him that he must throw the veto comp. Then Adam babbles about something in the diary room that isn't important, but what is important is that he's wearing yet another bacon-related shirt. These newbie DR's are killing me. We get it, Adam – you love bacon. Okay, Lawon – we know you're gay. Yes, Kalia…Kalia? Who?
Cut to what may be a dream sequence, because we're in Opposite Land where RACHEL is saying that Cassi is "not good at playing this game". Yes, Cassi is probably going home this week. But being evicted does NOT necessarily make you a bad player. Being a raging lunatic with the inability to conceal any of your emotions, evicting people on the sole basis that they're better looking than you, and occasionally seeking refuge in fake plastic shrubbery (more on that later) makes you a bad player.
The next day, the Cassi witch hunt wages on with Brenchel trying to convince Daniele that Cassi needs to go because Cassi is "running around the house and lying to everyone". Or, as I like to call it, "playing Big Brother". Once Daniele has heard enough, Brenchel takes the crusade outside to JeJo, who agree that Rachel is "exaggerating and being a little overdramatic". Rachel? Dramatic? Blasphemy!
This insightful epiphany about Rachel causes Jeff to ponder marketing a product called "Rachel Off", which is essentially a bug spray to get rid of pesky Rachels. Sorry, Jeff – it already exists.
Upstairs, Cassi pleads her case to Jordan as to why she should remain safe this week. Being that we're nearly halfway through this episode and the entire thing has been about evicting Cassi (who is not even on the block) makes it pretty clear that Dominic/Adam are getting pulled off the block this week and Cassi/Shelly are going up. Nice try, CBS, but you can't pull one over on this guy! (or any guy…or any animal)
So since we sort of know what's coming anyway, I'll just zip through this veto comp. Basically the houserats need to chew a bunch of gumballs and stick it to a wall. The only redeeming part of the comp is getting to hear Jordan say, "if I had more balls in my mouth, I'd look like a gerbil". No, Jordan – you'd look like Shelly. (I am fully aware that this jab makes no sense, but I've picked on Rachel enough, so I needed a replacement)
Rachel foolishly volunteers for two weeks of eating slop (because she's such a GREAT player and not at ALL like stupid CASSI), and then follows up her rock-solid decision by immediately failing out of the comp and spending the rest of the time playing the role of "cheerleader from hell" that I am all too familiar with firsthand. Dominic blocks out her shrill encouragement and wins the competition (surprise!), and then Jeff gets into a fight with Rachel causing her to run and hide in the artificial trees that are set up in the back yard. This whole sequence is pretty much too awesome for words, culminating in Tarzan Brendon chasing after Jane Rachel into the deep backyard woods and consoling her while she cries about being terrible at Big Brother.
The jungle couple takes their pity party inside, and we find out that Rachel is embarrassed because she fell. Really, Rachel? THAT'S why you're embarrassed? Just now, because you fell off of a beam?! Then Brendon ironically plays the moral voice of reason, telling her that "two wrongs don't make a right". You hear that CBS??? Casting Brendon and Rachel a second time does NOT make it right! In a rarely captured moment of self-awareness from Rachel, she declares "no wonder America hates me". I almost begin to feel sorry for her here…almost.
In the HoH room, Jeff complains that "this is turning into the Brendon and Rachel show". Jordan replies that "Rachel is freakin' nuts". It's not often that out of a random sampling of 12 people, Jeff Schroeder and Jordan Lloyd would be ranked #1 and #2 for intelligence. But here we have it, folks. It's gonna be a helluva summer.
(oh yeah – and then Cassi and Shelly go up on the block as replacement nominees, which you would've known within 10-minutes of watching tonight's episode…blah)

For more of Matt Hoffman's ramblings follow him on Twitter @HeadOfHoffhold and stop by www.TheGremlinCave.com. Also, be sure to check out Matt's video recaps of the Big Brother season on www.RTVZone.com (@RTVZone).