Tonight on Big Brother 13 episode 26, the results of the next live eviction will be revealed along with the results of tonight's HoH competition. While we wait, join us on Facebook and grab our free iPhone and Android mobile apps!
I'll be updating this post here with the live eviction and HoH results as they're revealed on the show. Have your Live Feeds (not signed up yet? get the Free Trial) ready to go because as soon as the broadcast is over the Big Brother Feeds come back!
Meanwhile, join us in the Big Brother chat room as we watch tonight's live show!
Big Brother 13 Week 8 Live Eviction voting:
Kalia: evict Adam
Rachel: evict Shelly
Jordan: evict Shelly
By a vote of 2-1, Shelly has been evicted from Big Brother 13.
Did you catch the commercial for Survivor South Pacific? We'll be covering the new season at Survivor Fandom! Join our Survivor Facebook page for more news.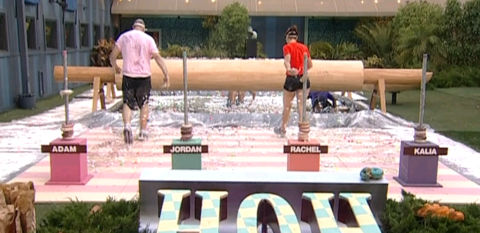 Big Brother 13 Week 9 HoH Competition – 'Rollin' In The Dough':
HGs have 13 mins to bring back the most donuts after climbing through goo and candies. Commence the "stop eating the donuts" comments!
So far, very early, mind you, Rachel was leading with Adam in 2nd.
7:05PM BBT: Still waiting on results. No winner yet…
7:20PM BBT: Still waiting. NO winner yet…
7:25PM BBT: Live Feeds are back! Waiting on confirmation…
7:27PM BBT: Adam just told Rachel, "Good job!" Jordan confirmed. Rachel won.
Rachel is the new HoH!
So yes, this competition will outlast tonight's show. So if you want to see who wins then get your Live Feeds now and watch the house react! Don't have your feeds yet? Then check out the Free Trial to see what other fans are watching!
Get your Live Feed Free Trial & Watch Big Brother Live!
Julie Chen teased us that Pandora's Box will return but this time with a celebrity surprise. Exec Producer Allison Grodner tweeted this would make 1 HG very happy. I'm placing all my chips on Tori Spelling.
Also, next Wednesday will be a special eviction show to get rid of that extra HG. Following that on Thursday will be another eviction plus part 1 of the 3-part final HoH competition. We're almost to the end!
Make sure you're ready to watch the house react to who is in power. The nominations are revealed Friday night, so stay close by!
Be sure to sign-up for the free Big Brother email updates, join us on Facebook, visit the Big Brother Forum, follow us on Twitter, and get our Mobile Apps.