Matt Hoffman (BB12) returns with his review of the latest Big Brother episode. You'll find him here at BBN each Thursday & Friday all season. Read Matt's past articles.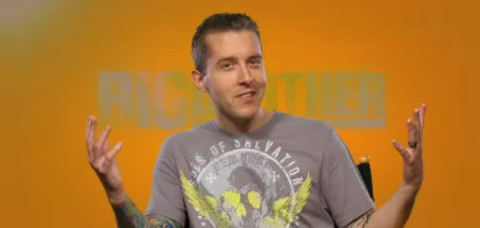 Tonight's Big Brother 13 tale begins with a black-and-white recap of Porsche announcing that she opened Producer's Pandora's Box and released a new twist on the house which both ensures the safety of Rachel/Jordan as well as removes any element of suspense from the remainder of this episode.
The new twist fulfills all of the requirements, as per the Big Brother Season 13 Manual:
ARTICLE 6, SECTION II – "TWISTS"
1. Every Twist must be convoluted enough that endless explanation through diary room sessions and household conversation is needed for a minimum of two full episodes.
2. Twists must directly benefit the veterans, but only in an indirect and implied manner. Twists must not, however, directly and explicitly specify veteran favor.
3. In the off-chance that the veterans are still incompetent enough to fail after Big Brother does everything willfully possible to skew the game in their favor, a new Twist may be implemented to arbitrarily resurrect evicted veterans from the pit of embarrassment that they are living in.
4. Any houseguest who is evicted for a second time after Big Brother has bent over backwards for two consecutive seasons and three evictions to save them will be contractually obligated by CBS to spend the rest of their lives married to Rachel from Seasons 12/13.
As the house disperses, Rachel heads to the backyard with Jordan to graciously celebrate and explain ad nauseum how this twist works and why they are a lock for safety. Jordan doesn't seem to understand and continues to harbor Jeff's sense of entitlement by complaining, "Why can't I win HoH and get Pandora's Box?". Meanwhile, "senseless complaining" sweeps further through the house to Kalia who is in the bathroom whining to Porsche about the new twist. You know…the new twist that just guaranteed her safety this week and is completely over as of next week. Oh, and let's not forget the free $5,000 she just won for doing absolutely nothing! This entire cast is a bunch of babies.
In other areas of the house, Shelly and Adam are discussing their inevitable demise. Shelly says something that has only been spoken previously by Porsche's high school varsity football team – "Porsche opens the box, and unleashes the fury." Then Shelly tries to make an impromptu "zing" by saying that Porsche "has more stuffing in her chest than in her head." Alas, in thinking about that statement, it actually isn't very derogatory and would've made more sense if Shelly would've said it the other way around. It's becoming clearer now why the Diary Room has been needing to feed everyone lines this whole season.
Porsche ends up nominating Rachel and Jordan, which is completely inconsequential based on the twist that makes everything reliant on the veto win anyway. Jordan thinks it's "kinda funny" how Rachel and her are the last veterans standing. That is funny, Jordan…funny like watching kittens getting tortured. Back in the downstairs bedroom Rachel rehashes the twist rules, Jordan rehashes the rules of Big Brother, and then amongst all the infinite wisdom clouding up the room, Rachel passes onto Jordan the mantra that she has used to get her through her entire relationship with Brendon – "There's nothing we can do about the past, but we can change the future."
Elsewhere in the house, Shelly is trying to mend fences with Jordan. Jordan apparently believes that you get executed upon eviction, because after a 14-hour crying fit following Jeff's exit from the house, she still is holding a grudge with Shelly. Hey Jordan – remember during your last season when you laughed at Lydia and Natalie for crying after Jesse was evicted? Remember mocking them and saying, "it's not like he died or anything!"? Remember that? Yeah…just saying.
Shelly's initial effort to open the lines of communication with Jordan was an awkward and eerily haunting "Hello, Jordan". Through her early-morning chain-smoked voice, it was quite reminiscent of the creepy doll in "Saw", and it's no wonder Jordan didn't bite.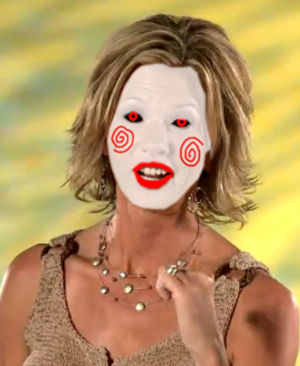 Shelly vents her frustrations to Adam out on the back patio. She says that she has "gone against what everybody wants from America's Sweetheart" (as if you were ever in contention in the first place, Shelly?). Adam is pleased that Shelly is trying to dig herself out of a hole because he says that people will forget about him and he can "slide through a little bit longer". Spoken like a true loser, buddy! Can we just write him the $50,000 2nd-place check now and kick him out of the house to avoid any further humiliation? Finally, Shelly goes into a diatribe about her family and how the only alliance she has is with Tony and Josie. She even throws out a "nobody gets between me and MY family", but it doesn't quite pack a punch without the red hair extensions and tequila-stained bedazzled cocktail dress.
Later that day, Porsche pops out of the Diary Room and announces that it's time for the veto competition in her standard awkward and uncomfortable delivery. Jordan says, "We walk outside, and I see a bunch of dummies." Oh no! – They brought Brendon back again?! Well, kind of. A bunch of stuffed bodies hang from parachutes in the backyard, and they each have the face of an evicted duo member. Jordan tells us that "all the original duos are back…they just don't talk or move". In many cases, you wouldn't even be able to tell the original from the dummy. In fact, a Lawon that doesn't talk would be a better player than the real Lawon. There's no way that the Lawon dummy would have pushed for his own eviction. So far, these hanging bodies are the biggest All-Stars this season has.
Porsche starts reading the rules in a way that leads me to believe her HoH CD was either "Hooked on Phonics" or the Rosetta Stone "English" edition:
PORSCHE: This competition is called "The Duo Do-Over". Our original partners have parachuted into the Big Brother backyard to help us float through this veto competition…
ADAM: A floater competition?! YEEEEAH! Finally! THANK YOU, BIG BROTHER! You're going home, Rachel!!!
PORSCHE: …Hop on to your previous partner's back, and hold on for dear life. Because the last houseguest hanging on will win the Power of Veto!
ADAM: Endurance? Wha??? Goddamnit.
Oh my gosh! What will happen?! The suspense is killing me! Could Rachel possibly win a competition where she has to hang on Brendon the longest? I don't know! I mean, she has been practicing for this every day for over a year now. But anything can happen in the Big Brother house!…
…"No Surprise #1" – Adam drops first. And right away. Shelly is disappointed and says that a grown man should last more than five minutes holding a dummy. I tend to agree, since I lasted eight weeks last summer carrying three dummies.
"No Surprise #2" – Jordan drops second. She says that she doesn't deal with pain well in these physical challenges, and "it's not Survivor". Totally, Jordan – you just sit down and save it all up for those mental competitions that you excel in.
"No Surprise #3" – Kalia is disgusting. If anyone knows who I can write to in order to get the 60-seconds of my life back that I spent listening to a segment on Kalia farting, please pass it along to me. Oh, I'd also like my dinner back…it's all over my shirt and mixed in with stomach bile.
Before we get to the culmination of this nail-biter, Shelly drops, then Porsche, leaving only Rachel and Kalia left to duke it out. Shelly points out that all hope of her survival in this game rests on Kalia hanging on. Well, Shelly – unless that dummy is stuffed with marshmallow fluff and hanging from licorice ropes, you may be out of luck. Which brings us to…
"No Surprise #4" – Rachel wins! After 58-seconds I could've told you the outcome, but after 58-minutes we get to see it through to fruition! Now that Rachel and Jordan are coming off the block, Shelly and Adam will be forced up as replacement nominees, keeping with the "zero suspense" theme that's running through tonight's episode.
After the competition, Kalia and Porsche go into the Storage Room to "talk game". This is, far and away, the most strategic Kalia has spoken all season. Throughout pop culture, many heroes have had their vices to give them temporary bursts of strength and vigor. Popeye eats spinach. Towelie from "South Park" smokes marijuana. Pac Man eats power pellets. Much the same, in the Storage Room surrounded by limitless amounts of food, Kalia's mind is clear and she's ready to fight! Elsewhere in the house, we are forced to sit through an insufferably long make-up session between Shelly and Jordan. If I didn't know any better I'd swear I was watching Lifetime or Oxygen or a Summer's Eve commercial. Hormones, tears, and hugs are in full abundance, and I zone out.
That evening, in an effort to try and score some votes over Adam, Shelly tells Rachel and Jordan that she wants to stay in the game as long as possible, but only for the sole purpose of helping Rachel and Jordan make it to final two. Even as I type this out again, it sounds so unthinkably idiotic. I almost am convinced that I missed something, and I have this all wrong. Whether or not they are buying into this, the fact that Rachel and Jordan don't openly laugh directly in Shelly's face is astonishing to me. Shelly couldn't possibly be serious, could she? I mean, she must be!…she's a wife!…and a mother! WRONG! Shelly, the sanctimonious hypocrite, stomps right into the Diary Room and boasts about how there's no way she's really handing the money to Rachel and Jordan like that. Hey, Shelly – why don't you try doing another one of those teary-eyed D.R. sessions where you spout off about how you can't stand being around all these liars? There's a straightjacket with your name on it waiting for you in Jury, honey.
Even though the outcome of the veto ceremony is basically pre-determined, Shelly and Adam dressed to impress on this special day…Shelly in her camouflage man-shorts, and Adam in his finest quirky bacon-phrase t-shirt. As you all should have known as soon as you watched Sunday night's episode and heard about Pandora's Box, Rachel and Jordan are safe this week, and Shelly and Adam are put up on the block. As a nice "kicker" to end this night's snooze-fest, Adam delivers the funniest line of the evening – "The gloves are on…let's FIGHT!" (what?…oh, that wasn't supposed to be funny?…nevermind).

For more of Matt Hoffman's ramblings follow him on Twitter @HeadOfHoffhold and stop by www.TheGremlinCave.com. Also, be sure to check out Matt's video recaps of the Big Brother season on www.RTVZone.com (@RTVZone).