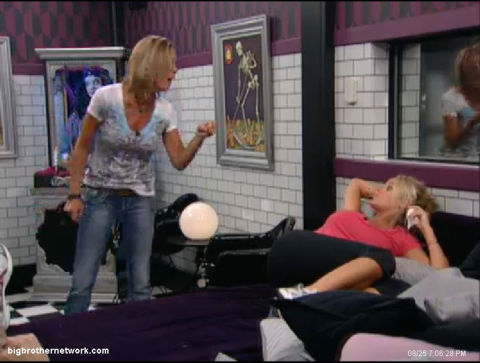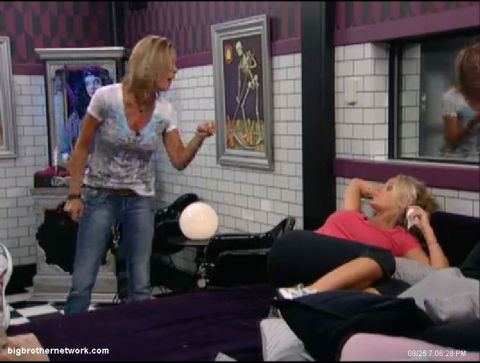 Sunday's episode of Big Brother 13 started off with what the show didn't have time to edit for us last Thursday, so we got to see Shelly's secrets all come out, "Big Jeff" shake his manhood at everyone and Rachel out-cry Jordan (because no one else is allowed to have the spotlight).
On the night before the eviction, we see Rachel in her furry boots ask Jeff if he threw the corn hole competition which ultimately send her "fiance" Brendon home. America's always-honest superhero lies and says he didn't throw it. Rachel tells Jeff Shelly told her that news so Jeff finally, after 50-some days, gets suspicious of Shelly.
The next day, just moments before the eviction, Jeff throws some passive aggression at Shelly, which she interprets (correctly) that the cat has been let out of the bag. Before she's able to be confronted, Shelly lays into Jeff and Adam, finishing herself off. Jeff and Shelly yell a little at each other and I fantasize about Shelly and Jeff in a boxing ring, with Shelly whaling on "Big Jeff." But I wake up, and it's really just Shelly lying badly.
Adam wets his pants when he finally gets to be a part of a Big Brother argument, but like most things, he even sucks at that.
After all the stuff that happened before Thursday's pre-show, we get a way-too-long recap of all the stuff we just saw Thursday. Did you know Daniele went home and Kalia won HoH? Oh, and Jeff went home too after Porsche won veto?
What we didn't see Thursday, however, was Rachel still thinking everything is all about her and that she's definitely going home over Jeff. Because the whole house (minus Adam) hasn't been trying to split up Jeff and Jordan since about week three.
When we finally get to normal Sunday episode stuff, we watch Jeff leave the house and Rachel still out-cry Jordan despite just losing her boyfriend. Jordan tries to do some math about how people voted despite it being very obvious.
Fanboy Adam nearly commits suicide in the diary room because his beloved Jeff is gone. I hope at some point in his life, Adam realizes that he should have pushed aside his fandom and vet worship. It's really embarrassing.
We also get to see just how upset Shelly is for what she had to do. Maybe I'm alone in this, but I do believe Shelly cares about Jeff and Jordan a lot. She just wants to win this game.
I've been rough on Shelly a lot of the summer, but I think she made one of the best moves in the house this past week. And I'm actually pretty disgusted at a lot of the things America is saying about Shelly. There are some Facebook groups saying some very slanderous and inhumane things about her. This is just a game and Shelly is (clearly) a compassionate person. At least she's playing the game and has brought some much-needed drama to an otherwise snoozy season.
Anyway, back to the show. Shelly and Jordan get into a huge fight and Jordan says the F-word (God forgive her). It's actually the best fight of the season. It would have been even better had Rachel not been the voice of reason (I know, crazy, right?) and pulled her away.
We finally get to the new HoH contest and there are (even more) snakes everywhere. The houseguests have to maneuver this snake eyeball down its body, trying to land it in its socket. If it falls, the HG gets whatever number of points the eye lands in. To absolutely NO ONE'S surprise, Adam is knocked out of the game first. Then Rachel. Then Shelly. Then Jordan. And Porsche wins! Just like Jeff said, she's finally awake and in the game.
Rachel and Jordan cry some more. Jordan is ready to give up. Rachel doesn't understand why she sucks at this game now. She says "I was so good at this game. I can't do anything." And that's followed by a "I miss Brendon so much." Gee, you think that's why you suck now? Because you can't function without your "fiance"?
Adam suddenly decides to team with the newbies (until something better comes along). Then Porsche opens Pandora's Box. A new twist is thrown at the HGs that means Jordan and Rachel staying in the game longer. And that's fine by me. I'd rather them both be there a week longer than Adam. In case you missed, the twist is that the duo rules are back for one week. So a pair has to be nominated together and if the veto is used on them they are both removed. So there are only two things that can happen this week.
If you can't wait until Wednesday to find out who Porsche nominated and who wins veto, click those spoiler links to find out.
What did you think of this week's Big Brother? Crazy, right?