Tonight on Big Brother 13 episode 19, the results of the next live eviction will be revealed along with the results of tonight's HoH competition which looks like it could be an endurance battle. If that happens we'll be here all night with results. While we wait, join us on Facebook and grab our free iPhone and Android mobile apps!
I'll be updating this post here with the live eviction and HoH results as they're revealed on the show. Have your Live Feeds (not signed up yet? get the Free Trial) ready to go because as soon as the broadcast is over the Big Brother Feeds come back!
Meanwhile, join us in the Big Brother chat room as we watch tonight's live show!
Big Brother 13 Week 6 Live Eviction voting:
Rachel: evict Shelly
Kalia: evict Brendon
Porsche: evict Brendon
Adam: evict Brendon
Jeff: evict Brendon
That's enough votes. Brendon is evicted again.
Jordan: evict Brendon
By a vote of 5-1, Brendon has been evicted. Again.
Julie announces next week will be a "Fast Forward" double eviction!
It's a physical/endurance comp on the Big Brother Live Feeds. Get signed up right now for the Free Trial!
Get your Live Feed Free Trial & Watch Big Brother Live!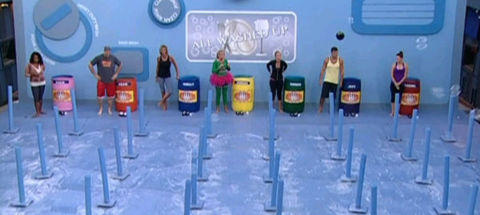 Big Brother 13 Week 7 HoH Competition – 'All Washed Up':
HGs have to run back and forth to fill a bubble and free their ball first to win!
Find out who won HoH tonight!
The only way to watch the rest of the competition is on the Live Feeds. Don't have yours yet? Then get the Free Trial and start watching now!
Get your Live Feed Free Trial & Watch Big Brother Live!
Make sure you're ready to watch the house react to who is in power. The nominations are revealed Friday night, so stay close by!
Be sure to sign-up for the free Big Brother email updates, join us on Facebook, visit the Big Brother Forum, follow us on Twitter, and get our Mobile Apps.