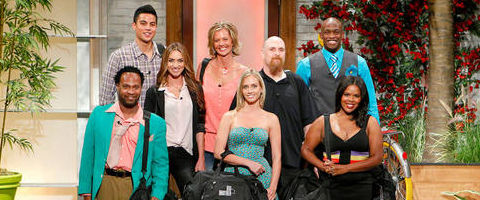 Big Brother is back! We'll be right here on this post discussing the "three shocking surprises" and revealing who are the Dynamic Duos from our Big Brother past. Get ready for some exciting news! I'll keep updating this post throughout the broadcast.

First aspect of the season's twists: the new HGs will have to pair up from the start. Wow, we see the 3rd hidden room and my inside source was real (see Update 3.1)! The mystery room is a library like I posted ten days ago. Allison Grodner tweeted that room wouldn't last long anyway, so is it set to become the Have-Not room?
Julie reveals to the HGs that they'll need to immediately pair up. Which ever pair wins the first HoH both of them will be safe. They will have to then nominate another pairing who will have to campaign against one another to avoid eviction.
Big Brother 13 HG Pairings:
Keith & Porsche
Shelly & Cassi
Adam & Dominic
Lawon & Kailia
The new 8 HGs swear allegiance to the group against the inbound former HGs.
Big Brother Dynamic Duos:
Brendon & Rachel
Jeff & Jordan
Evel Dick & Daniele
Have you joined us on Facebook yet or started following us on Twitter?
The first HoH competition has the pairs hanging on to a giant banana. The look pretty slippery, so this can't be easy. Last pair with a HG hanging wins HoH.
It comes down to Rachel, Daniele, and Evel Dick… Grab your life vests because Rachel wins the first HoH. Julie promises us another twist to "shock" the game.
Okay, this is a big, crazy twist. I think they outdid themselves this season. Here's how it works. The HG who survives eviction wins a "Golden Key" and becomes immune until there are only 10 HGs left. You can no longer put up 2 people you definitely want to leave because 1 is guaranteed safety for several more weeks. Golden Key holders can't even participate in any competition until they reach the 10-remaining point. Craziness.
Don't forget that starting tomorrow morning we'll have a former HG reviewing the season for us right here on the site. The first article from this mystery HG will be posted Friday morning so be sure to check back in tomorrow.
After tonight's west coast premiere ends the Live Feeds and Big Brother After Dark will launch (that's 1AM ET / 10PM PT) so get your BB live feed account signed up and ready now. Reminder that you'll be able to start using your iOS4 devices tonight (iPhone/iPad/iPod Touch), but CBS has delayed the Android app until Friday. Good thing you can download our free Android App right now from the Android Market!
As the show closed we got a quick preview of what's to come in the next few episodes and it looks like it didn't take long for the shirts to come off and the bikinis to come out. We snagged a few quick screenshots over on our Big Brother NSFW site to help get the season started over there. Looks like a good summer for uncensored live feeds!
Check it out! The Live Feeds are now on and the game is running. Evel Dick is missing, but he's not eliminated, just out of the house for some event. The HGs are getting alone surprisingly well and are playing pranks on each other.
click thumbnails to see full size image