Hey everyone!  I talked with Cassi Colvin today and she had some interesting things to say about life in the Big Brother house.  Check it out!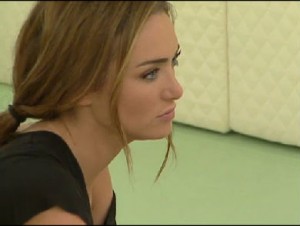 Chloe –  Was it Rachel's insecurity and jealousy that got you voted out?
Cassi – I think Rachel's biggest issue with me is that I am a girl comfortable in my own skin and happy with who I am on the inside when I don't think she has found herself yet. Also, I think she was intimidated because she knew that I wouldn't be her minion because of the
Brenchal union or her experience in the game. I feel that I was the mostindependent newbie, the one least likely to let their promises of safety throw me off guard and make me easy to sway – I have my own mind.
Chloe – Do you regret not going with the vets and voting to evict Keith?
Cassi – I don't because number one, I was never approached and asked how I was voting nor did they attempt to sway my vote. Also, it was pretty obvious for me and my game play to get rid of Porsche because she had vocalized all week that as soon as she won HOH she would put me up. I knew that with the deal I had made with the veterans, that not to nominate them Keith was the only other newbie that had the audacity to put them on the block. He had also made such a spectacle of
himself that had he won the golden key, he would have been a major target after the duos ended which would have bought me another week.
Chloe – What is it really like being in the house with Rachel?
Cassi – Honestly, as talked about as her animosity towards me was in the house, she never really affected me. If anything, her antics were entertaining and just reminded me of the girl that I am happily not. I can definitely say that I got under her skin far more than she bothered me. She portrayed herself in very ugly light, and unfortunately it wasn't an act.

Chloe – Do you think your relationship with Dominic hurt your game?
Cassi – Absolutely, because him and I were so close and comfortable with one another and viewed as two intelligent people. I think people probably always assumed we were talking game when in reality it was purely personal most of the time. I had heard talk amongst the house that the veterans had taken notice of our friendship and were threatened by it, so in a conversation with Brendon – prior to them waging war on me – I told him very frankly that Dom and I were buddies, my word was good, a deal's a deal and that I wasn't going to let anyone in the house determine my friendships or how I spent my downtime.  I had hoped he could respect me for my honesty.
Chloe – If you could change one thing you did while in the house, what would it be?
Cassi – As cautious as I was from day one with what I said and who I said it to, I definitely could have been more tightlipped. I think a lot of the newbies recognized that I was ready to play from the start because I was so outspoken and honest. This made it easy for me to become the scapegoat for the things we were all feeling.
Chloe – How did you have to change your strategy once the veterans came in the house and how much of a disadvantage was it for you not to be as familiar with their previous game play?
Cassi – Obviously it threw a wrench in the game and upped the difficulty right from the start because of the unspoken alliances of new verses old. Of course it could have been helpful to have seen the gameplay of a couple of the former players that I wasn't familiar with, but ultimately, because of the way things went down and the circumstances that sent me out of this house this soon, its hard to say that it would have made a difference.
Chloe – Which veteran has the best chance to win the game?
Cassi – Regardless of their association with Brendon and Rachel and the veterans alliance, Jeff and Jordan have a great social game and whether its their true intention to align with some newbies they have the gentle non-threatening demeanor to make others believe it and therefore not go after them for some time to come.
Cassi is a smart girl and it's a shame she was voted out so early.  I would have loved to see her play the game.  I think she would have done well if she had stayed longer.