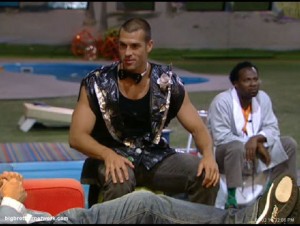 Today we spoke with
Brendon Villegas
who has now been evicted twice this season.  See what he has to say about floaters and who will get his vote in the end.
Chloe:  Would you still like to see Jordan in the final two with Rachel?
Brendon:  If Jordan and Rachel were in the final two I would hope that everyone would vote for Rachel to win since she has played a stronger and tougher game. So, yeah. I think that would be OK.
Chloe:  Are there any reasons why you could see voting for Dani if she happened to make it to the final two and wasn't against Rachel?
Brendon: Because Dani had to fight to get to the end. Even though we were on opposite sides of the house she will always have been in the same boat as Rachel and I were.
Chloe: Who should Rachel align with in order to go the farthest?
Brendon: At this point, I told Rachel to try to stay in the middle and align herself with Jeff and Jordan on one and Danielle on the other.
Chloe:  Is Dani the sole reason you were evicted this time or do you blame anyone else?
Brendon: I think Daniele was the main reason I was evicted but all in all everybody in the house wanted me evicted because they were threatened by me and afraid that I could win.
Chloe: Why were you so hard on Jeff and Jordan when you tried several times to align with Dani and have Jeff nominated instead?
Brendon: Because I had known that Jeff had struck a deal the first time I went out. We had gone to bat for them and they had already turned their back on us the first time. At this point, Jeff hadn't done a single thing for our alliance. If we could have gotten him on the block it would have weekend their hold on Adam and Shelly.
Chloe:  Would you really have gone against the house and voted to keep Jeff if the roles were reversed?
Brendon: Absolutely. Rachel and I both would have voted to keep Jeff just to piss off Danielle and make her have to use her tie splitting vote.
Chloe:  How surprised were you to receive over a million votes from America  and come back in the game?
Brendon: I was really surprised, and grateful to be given the opportunity to come back into the game.
Chloe: You said you will give your vote to a competitor.  Would you consider voting for a floater in the end that plays a good social game and fights to stay in the house but doesn't win comps?
Brendon: At this point, there is not one floater in the house who is playing a good enough social game to get my vote to win big brother.