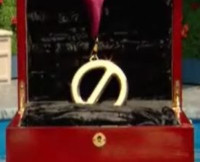 The Power of Veto Ceremony is over in the Big Brother 12 house and arguments are sure to follow with the eviction just days away. Crank up your live feeds (New to the feeds? Free Trial is still available) and watch the HGs scramble to save themselves and secure votes. Keep reading to reveal Big Brother Spoilers for what happened today at the Veto Ceremony.
Ragan, the winner of this week's PoV, obviously used the Veto. Brendon named Matt as his replacement nomination. The Diamond Power of Veto will definitely be used by Matt and we're expecting it on Thursday's live show.
If Matt discovers the Brigade's betrayal before then will he use it to renom one of his former alliance members? Anything is possible, but don't miss a minute of it!
What do you think? Which of these two will be evicted on Thursday's live show: Matt or Lane? Now a different question: Who should Matt renom with the DPOV?
Off-topic side note: Anyone else excited for the return of Survivor 2010? Ashli Rae has posted some early spoilers being leaked on the new season.
Be sure to sign-up for the free Big Brother email updates, register for the Big Brother Forum, join us on Facebook, and grab the free Big Brother Toolbar.