Here we go! It's our very first Big Brother 12 Endurance HoH Competition!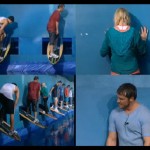 The endurance competition is called "Hang 10" and it has all the HGs on surfboards elevated over a pool. There is water pouring down over them to make things slippery on top of the boards moving around. The first 5 HGs to drop get to be the "Have's" this week while the rest of them will be the "Have Not's" this week. So there's the incentive to drop quickly while the big prize is to be the last HG standing and become the next HoH!
So here's the deal: if you want to watch this competition live as it happens then you have to have your Big Brother Feeds up and running. If you don't have the feeds then this is exactly when you need to sign-up with the free trial and see how they work. You'll be able to watch everything live and uncut as it happens!
Big Brother 12 Week 3 HoH Endurance Comp Results:
6:07PM BBT – The live feeds return and Kathy is already down
6:08PM BBT – Lane is down!
6:10PM BBT – Kristen is down!
6:15PM BBT – Hayden is down!
6:16PM BBT – Britney is down! Only guys remain. Maybe BB made this too tough… The remaining guys will be Have Not's except for the one who wins HoH.
6:20PM BBT – Brendon, Ragan, Enzo, Andrew, and Matt remain.

6:25PM BBT – Ragan is making gross, but funny jokes. The rest of the guys are holding on well.
6:30PM BBT – BB has really turned up the water that's pouring on them and it appears to be freezing cold. All 5 manage to endure it.
6:35PM BBT – All 5 still remain. The surfboards are sliding in and out making the HGs walk the plank while holding on for dear life.
6:38PM BBT – Whoa! BB shook the boards and really spooked the guys, but they held on.
6:39PM BBT – Enzo is down! 4 remain. Enzo is the first Have-Not.
6:45PM BBT – Brendon is down! 3 remain: Andrew, Matt, & Ragan.

6:50PM BBT – BB is pouring ice water and sliding the boards all at once.
6:55PM BBT – Andrew, Matt, and Ragan all remain and look solid.
7:00PM BBT – Andrew is thanking BB for all the exercise. These guys are holding up well and could be in for the long haul. No one making serious attempts at cutting a deal just yet. That should happen when the peanut gallery disappears inside.
7:05PM BBT – More ice cold water and it sounds like high-speed fans blowing on them. Fun!
7:10PM BBT – All 3 remain on the boards. Enzo, on the sidelines, is sweating another week as a Have-Not. He's really hoping he can eat regular food tonight so he can stuff up and then go to slop after that.
7:15PM BBT – Andrew, Matt, and Ragan have their stone cold game face on. No danger of falling anytime soon.
7:20PM BBT – Matt looks like there's nothing too it. Meanwhile, Andrew looks like there is a flesh eating bacteria in the water below. The man is petrified!

7:25PM BBT – Ragan is asking for rule clarifications on what the Have-Nots are allowed to do. Think positive, Ragan!
7:28PM BBT – Andrew is down! Only Matt & Ragan remain.
7:30PM BBT – Ragan and Matt are starting to talk deals now that the peanut gallery is gone inside. Matt says he'd put up Kathy and Brendon. Ragan wants to tell Rachel and Brendon before he drops down.
7:35PM BBT – Ragan and Matt keep trying to figure out what deals they should make. Ragan is nervous about dropping down too quickly. Looks like Matt will be the HoH because Ragan wants to drop soon.
7:40PM BBT – Matt and Ragan were talking deals when the feeds cut away. Waiting for them to return…
7:45PM BBT – Still waiting on the live feeds… Did something happen that they dont' want us to see? I'll let you know as soon as they return.
7:49PM BBT – Live Feeds return! Matt and Ragan are enduring water pouring over them. Both remain in the game.

7:55PM BBT – Matt & Ragan are silent as they endure the cold water and moving board. The peanut gallery has returned and Rachel is cheering them on.
8:00PM BBT – Both are in good spirits despite the conditions. Ragan is cracking jokes. I think the extended break in the feeds was to swap out Ragan's mic.
8:05PM BBT – Back on a feeds break again. Grrrr….
8:10PM BBT – Sorry guys, still on "bubbles" and waiting for them to get their act together.

8:25PM BBT – Scribbling a very stern letter to CBS & Real…
8:40PM BBT – And we're back! Everyone is back inside and Matt has the key around his neck. I'd say he's the new HoH until we hear otherwise.
Grab your Live Feeds Free Trial right now to watch what happens next.