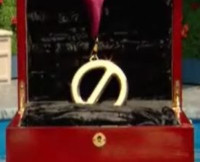 Tonight on Big Brother 12 we'll see what happened in the very first PoV competition and have confirmed to us who won the Power of Veto. If you've been following the spoilers then you already know who won!
The mood in the house is volatile as the nominated HGs are being anything but civil with one another. Of course there's also the whole issue with the mysterious Saboteur, though most of you feel confident that there's no mystery and Kathy is the one causing trouble. If you haven't been watching the feeds then you've been missing the real game and there's no way CBS is going to be able to show most of what's been done and said in the house. You can catch it all on the live feeds new Flashback feature which lets you jump to any day and any time in the season. Yeah, it's pretty awesome. Try it for free and then keep it for just 50 cents a day.
What's that? You don't have the Big Brother Mobile Apps? Well then start downloading because we've got them for the iPhone, Blackberry, Android, and WebOS! Keep on top of the game no matter where you are with our new apps.
Stay connected to Big Brother 12 with updates by Email, Facebook, & Twitter.