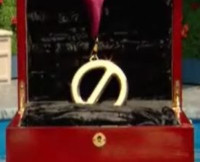 Big Brother 12 may have just premiered last night but the game has been at full speed for almost a week now. We already know who fell under Hayden's fire and became the first nominees, but now we've got the Power of Veto results from the live feeds. Who ever wins the Veto will have the option to remove one of Hayden's nominations all the while staying safe from being named the replacement nominee.
The Week 1 Power of Veto results for Big Brother 12:
Brendon has won the Veto Competition!
The players in this week's PoV competition were Hayden as HoH, Brendon and Rachel as the nominees, along with Enzo, Andrew, and Monet. The Veto ceremony isn't far away so we'll soon know whether or not the power will be used, but considering Brendon was on the block it's very, very safe to say it will come in to play. The real question is: who will Hayden put up as a replacement.
Jump on the live feeds and enjoy the drama. Watch it all now live & uncensored.