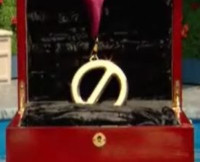 The
Power of Veto
Ceremony is over in the
Big Brother 12
house and fights are exploding right now on the
live feeds
! To find out if the PoV was used click "
continue reading
" for the
spoilers
. This should definitely shake things up for the first live eviction on Thursday night and the anger is already boiling over in the house!
Brendon, the winner of this week's PoV, did just what we expected he'd do: he used the Veto to save himself and force Hayden to name a replacement. Hayden then selected Annie as the new nominee to sit beside Rachel for Thursday's eviction.
Annie is convinced she'll go home this Thursday and she's pissed off. Get on the Big Brother live feeds right now to see what's happening and catch any fights that are about to come up after Britney and Annie fought at the Ceremony! Annie is asking BB for some alcohol so that should help calm stir things up!
Update: Annie is pissed at Brendon because she thought they had an alliance. Uhh, did she not know Brendon and Rachel were hooking up? Now Annie says that she's ready to "fight her." Which her? Probably Britney after the PoV Ceremony shuffle between those two. Crank up those feeds and watch Annie crumble.
Haha, Lane just asked Annie if she was vulnerable then if she wanted a backrub. This guy is trying hard to get her! Now she's going for his vote telling him how sexy he is.
What do you think? Which of these two should be evicted on Thursday's live show: Annie or Rachel? Share your thoughts below.
Be sure to sign-up for the free Big Brother email updates, register for the Big Brother Forum, follow us on Twitter, and grab the free Big Brother Toolbar.
click images to enlarge