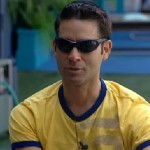 I caught up with Andrew today via email, as the evicted hg's are still sequestered and was able to get his thoughts on why he did some of the things he did and what he would change if he could go back in time.
AR:  Why did you choose Brendon as your closest ally?
Andrew:  Me and him had the most in common. He's a swimmer. He's intelligent. I saw him as me. 
AR: Why did you decide to go after Kristen and start an argument with her and do you really think she is running the house?
Andrew: She has an evil side to her and I didn't want her to win the money. I knew she had turned on me. Therefore, I wanted to give her up.
AR: Why didn't you call out Matt on the disease his wife has if you believe it is fake after you realized you were getting evicted?
Andrew:  Great question. I had other things to worry about as I was walking out the door and everyone was screaming at me about Kristen. 
AR: Why didn't you try to talk to anyone in the house besides Brendon and do you think you took playing the loner a little too far?
Andrew:   I may have taken it too long. I tried to reconcile with Enzo, but it was a little bit too late. 
AR:  If you could go back and change one move you did in the game what would it be?
Andrew:  Making sure Matt gets out of that house. Convince everyone to vote him out. 
AR:   How did it make you feel that Brendon didn't vote for you to stay after what you did for him?
Andrew:   It did hurt a little bit, but I understand the game play and I still have the utmost respect for him.
Is Andrew right?  Is Kristen really this evil person living in the big brother house or was Andrew just hurt by her lack of attention to him the last few days before his eviction?  I still don't quite understand the affection for Brendon but obviously they had quite a bond.