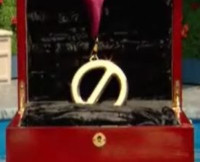 Well look at that. Last Thursday Julie Chen told us that the Wednesday special live episode would feature the Veto competition, ceremony, and live eviction but here we are with the Veto competition results in our hot little hands. The results are huge as the winner of this week's PoV may be the sole voter in the next eviction coming up on Wednesday which feeds straight in to the Final 3 battle. All season built up to this.
Read on to find out who won and what that means for the game this week.
The Week 9 Power of Veto results for Big Brother 12:
Hayden won the Veto Competition.
If things don't change Enzo will be casting the only vote and that probably means the end for Britney. She's won a lot of comps and if the Jury goes on accomplishments then she'd be tough to beat. Expect an all-Brigade Final 3.
Jump on the live feeds with the free trial and watch as the house reacts to the results. There's still time to grab the Big Brother Feed free trial and be ready for Wednesday night's endurance competition as part of the final HoH comp.
With just 4 HGs left in the game everyone was competing which makes this all that much better of a comp since everyone left had a shot at winning.
The Veto ceremony will either be held on Monday like it normally has been all season or Big Brother will save it for Wednesday's live show. I'd lean toward the latter, but I could be wrong, so keep checking back and I'll post the results.
What do you think of the PoV Comp results? Who should be evicted next?