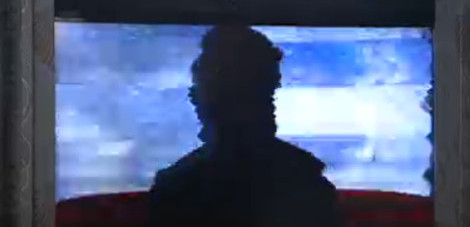 Finally! After limping through the past week and a half as the new Saboteur, Ragan has made a bold move in Big Brother 12 by actually done something tangible and chaos-inducing! Grab your live feeds and watch it all on Flashback.
Tuesday night at 8:25PM BBT Ragan put his Sabo-plan in motion as he snaked his way back to the Taj (Sunset) Room and pulled a handwritten note from his pocket. The note, which read "I Know Your Secret," was placed under Enzo's pillow after much hesitation and fear on Ragan's part. Ragan then slipped back out of the room unseen and mingled back in with the rest of the house.
Fast-forward to 3:50AM BBT when already-paranoid-enough Enzo finds the hidden note. Enzo's reaction? "Oh $@%#!" He scrambles out of the room and rushes to find Hayden and presents the message. After the initial freak-out they want to plant it on someone else to shift suspicion, but it's too late as Kathy awoke to Enzo's noisy discovery. The Meow-Meow is pinned to this one.
Enzo wakes Matt and Britney at 4:10AM BBT to share the news. Everyone starts throwing out suspects with Brendon and Kathy leading the pack. Brendon is an easy target because the HGs are normally hating on him anyway, but Kathy has more reasons to be suspected as she was the one making the beds in that room. They decide it must be Kathy and are fearful of what she might do next.
This is exactly the sort of chaos we should have been watching on the live feeds since Ragan was crowned the Sabo-sequel and not that "ohhh Houseguests I have a scary message for you" nonsense. The house is upside down now and no one is quite sure of anyone anymore. Fallout should be intense on Wednesday as the HGs scramble to snuff out the Saboteur and make sense of what just happened.
We're down to less than four weeks left in the season! Don't miss the uncensored live cams inside the Big Brother house. Sign-up now for the $14.99 monthly pass to watch the rest of Big Brother 12 plus everything from earlier this season on Flashback and get $10 in free mp3 downloads! (Free mp3s for US sign-ups only)
click images to enlarge