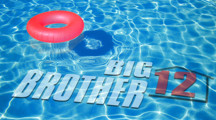 We're down to two weeks left until the Big Brother 12 premiere on July 8th! As we count down to the start date, and the end of the preseason live feeds 33% discount, it's time for another BB news round up. If you missed the last news batch then be sure to catch up there.
The Houseguest (HG) count has fluctuated over the past several seasons and is always a bit of a mystery. Adding to that confusion this year is CBS' decision to put 13 spots on the main site. Would production reveal the HG count this early on? I don't think so and am guessing it's just a continuation of last year's placeholders. We won't know who will be in the house this summer or even how many for a little while longer. You can expect that news to be released on CBS' The Early Show with Big Brother's host Julie Chen breaking the news.
Next up, we've got the annual favorite: Big Brother house design rumors. Someone always shows up claiming to know just what the house will look like. Those rumors are spread all over and then when we get our virtual tour of the new house layout we see that they weren't even close. So of course this year is just like the rest and we've got a laundry list of what may or may not be in the house. I'm waiting for the soon-to-be-released pictures and then I'll give you the full scoop. Let's hope for something half as slick as what BBUK got this year.
There's also a new Big Brother 12 commercial on-air with lots of random stand-ins, not the actual new cast, and delivers little more than a reminder that Big Brother is about to return, but you already knew that! Watch out for a nice cameo by last season's Kevin Campbell (read all about his latest adventure, poptalkwebshow.com, in our exclusive Diary Room interview).
With just a matter of days left to go the Big Brother floodgates will be opening shortly. We'll know what the house looks like, who we'll be watching all summer, and whether or not we all worked together to win that webchat with Janelle for all of you readers here. You can help us all win that by signing up now for the preseason live feeds free trial. If we win then everyone is invited to join in!
Stay ahead of Big Brother 12 with the latest news and updates! Sign-up for the free Big Brother email updates, join us on Facebook, follow us on Twitter, and grab the free Big Brother Toolbar. Don't miss the limited-time 33% off Feed sale!
Update: RealNetworks just announced that Big Brother 11's winner Jordan will return to star in exclusive content only on the Live Feeds. Still waiting to find out how involved she'll be, but could be a weekly Jordan show! Ready to watch?
Update 2: We're in the iPhone App Store now! Stay up with Big Brother no matter where you are on your iPhone, iPod, & iPad with our Big Brother App!