Big Brother wouldn't be the same without the Live Feeds so it's with great pleasure that I bring you the early details on what you can expect when you sign up this summer because what would BB be without uncensored 24/7 access?!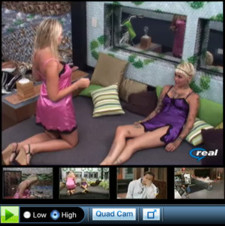 First up might be the most important for those trying to decide: pricing. Just like last season we'll be able to offer you the Big Brother live feed coupon for an early-bird price with a deep discount. This will launch on Thursday morning so be ready because that's only going to last until July 7th. I'll have those details up that morning, but needless to say, if you're going truly enjoy Big Brother then you'll have to get the live feeds and this will be the cheapest time to do it.
Next, the big news for this season's live feeds exclusive will be that one of my personal favorites, Janelle from BB6 and All-Stars, will be appearing for weekly Big Brother 12 events which can only be found on the live feeds. This won't be available on CBS so if you want to see the Queen of the PoV you're going to have to sign up. Luckily, Chelsia from BB9, Queen of the Easter Eggs, will be back with her own weekly Express Lunch show also only on the feeds.
Aside from new content additions, the entire Live Feeds experience has been completely upgraded. I got a preview look at how it's going to work and it's awesome. The feeds will be Flash-based (think YouTube style) for easier access without the need for a special player (but I'm told you can still go that route if you're old school and prefer it that way). Building on top of the embedded approach will be private and interactive chat rooms where you can group up with friends "attack" the HGs with tomatoes, darts, kisses, and more (virtually of course). This should be a great way to group up with your friends and live discuss what's happening in the house in a totally new and social way.
Flashback will also be making its return this season on the live feeds. You'll be able to use this DVR type feature to go back through the entire season's archives and watch any fight, drama, romance, etc. whenever you want. Matter of fact, if you start up your live feeds you can watch all of seasons 10 and 11 right now.
Okay, be sure to sign-up for the free Big Brother email updates, join us on Facebook, and follow us on Twitter to be notified as soon as the BB12 live feeds discount code goes live on Friday, June 18th. I'm ready to sign up. Are you?
Update: The Big Brother SuperPass Live Feed early bird coupon discount is now live!