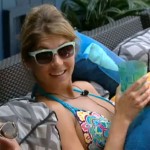 Hi everyone! I just spoke to evicted houseguest Kristen about Andrew, Rachel, Hayden and where this cast of Big Brother 12 ranks among the previous ones.
AR:  Andrew screwed up your game didn't he?
K:  Yeah he was more concerned with screwing up my game then staying in the game himself.
AR:  Do you regret starting your showmance with Hayden? Do you think it was your downfall?
K:  I don't think it was my downfall. I think I should have had a better sense of awareness because I would hope to think and I would love to think that we both had the same feelings for each other. I was more of an honest upfront person than he was and I have to realize that this is a game. I should have had my eyes wider open and realized there was a lot of time spent in the house not together. I should have asked myself more often what is he talking about when I'm not around.
I think my biggest downfall was probably aligning myself with Andrew and not aligning myself with other people without Hayden knowing. We could have still been in an alliance together and still have been looking out for one another but I should have made the same move that he did early on and created something secret as well.
AR:  Rachel called you a floater, was that your strategy going in or do you consider yourself a gamer?
K:   I'm a combination of both. I think walking through the door, it's not that I was afraid of winning or making bold moves because I wasn't. I wanted to do it when the time was right. If I hadn't been thrown under the bus the way that I was, I think I would have made bold moves in the weeks to come. I would definitely not consider myself a floater. I felt like a loner, not a floater.
AR:  Do you regret not accepting Rachel's apology and going to see her HoH room?
K:   I don't really regret it because Rachel is the kind of person to shove things in people's faces. After I saw her react the way that she did when she won and be such a horrible person, I felt like she was going to put me up regardless. I felt like why not keep my pride and try to win POV and get myself off the block and prove something to the house. As far as I'm concerned nobody in the house really stands up for themselves and a lot of people were pushed around and bullied, especially by Rachel and I just wasn't going to have it so I would like to think I walked out of there with my head held high.
AR:  I know you're hoping she walks out that door on Thursday.
K:  Yeah I am. 
AR:   What is the game going to lack now that you're not in the house?
K:   The game is going to lack a lot of honesty. I really think that people are going to become a lot more vicious and completely out for themselves. They'll do anything to get to the end. In the beginning that feeling really wasn't around the house. It was really weird, I thought everybody gets along things were kind of on the down low and really it wasn't like that and I think it's just going to intensify without me in the house.
AR:   Where do you think this cast of big brother ranks among other casts?
K:    I think it's much better than previous casts and I didn't realize it until I was out of the house, just how much better it is because in the house you think everybody is playing the game very similarly and really no one was playing the game the same at all. There are so many twists and turns and unknowns. There were no defined alliances and no defined lines. There were overlapping alliances. There were people completely out on their own and some of the people completely out on their own were possibly in an alliance. For a while I thought that Matt and Ragan were in an alliance when Matt wasn't in an alliance with Ragan at all. It was constant constant questions of were people in a friendship or in an alliance.
AR:   We all saw your boyfriend back home, what do you plan on saying to him when you get the chance to talk to him?
K:   I don't even know what I'm going to say. I never thought that what happened on the show was going to happen. I never intended on it happening. I was sure that my relationship was not only strong enough but that I was not willing to jeopardize my game or my relationship. I couldn't help the way that I felt. If I wouldn't have pursued what happened, I think there would have been a lot of frustration there because I would have felt like I was missing out on something. So it was kind of a catch 22. I wouldn't have gotten to the level I got to with Hayden and I think I would have been mad at myself for not allowing it to happen. I was in a little bubble of a house where I couldn't communicate with anybody on the outside and ask for guidance or support which normally I don't need but in this case I definitely did.