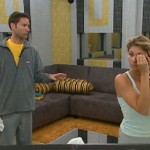 Who said there wasn't any drama on the Big Brother 12 live feeds? Earlier today Kristen and Andrew went for a few rounds of verbal punching after he marched in to the bathroom at 9:45AM BBT on all cams and announced to them, "Don't play me. I know you're playing me like a fiddle. Don't do it anymore." Kristen barely pauses from her makeup work to ask him to explain, but instead he walks away and heads upstairs.
Twenty minutes later (10:07AM BBT, Cams 3 & 4) Andrew corners Kristen in the Sunset Room and they really get in to it. Andrew is upset that Kathy was telling him not to worry about this week and that he'd be safe, meanwhile she's cozying up to the HGs and securing their votes. Kristen gets upset that Andrew is accusing her of betraying him and that's where things escalate in to a good ol' fashioned Big Brother shouting match. Now we just need some pan banging!
Brendon wants to call another House Meeting which will hopefully go as well as the last one and we get more yelling and tears. Tears with Andrew are inevitable at this point as he hasn't really stopped crying. Great idea, Brendon.
Crank up your live feeds and use the Flashback feature (menu option in the left-hand column after signing in to the site and going to the Big Brother Feeds area) to watch what happened. If you're new to the feeds then no worries, you can still get the Free Trial and see what everyone else is watching.
click images to enlarge