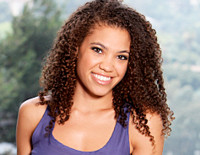 I caught up with the second evicted Big Brother 12 HG, Monet, today and was able to get her thoughts on what went wrong for her in the house and why she and Rachel never got along. 
Ashli Rae:  Hi Monet, what was your strategy going into the game and how did that change once you got in the house?
Monet:   My strategy was to not win HOH the first week and I didn't want to win any prizes because that puts a target on your back. I also wanted to align with other strong guy competitors. That changed when I won the money because that put a huge target on my back. 
AR:  Do you think aligning so close with Britney and no one else hurt your game?
M:   It could have. It very well could have. I should have been friendlier with the girls. Maybe I should have been as fake with them as they were with me.
AR:  Rachel didn't seem to like you from the beginning, what was it about you that rubbed her the wrong way?
M:   I don't really know. I think Rachel honestly didn't like me because she felt threatened by me. Maybe because I was better looking than her so she thought Brendon was going to like me better. I don't know why she thought I was going to break up her and her man.
AR:  From past seasons of BB, what player do you relate yourself to the most? 
M:   I do really like Janelle. She was a strong player. Right now, I think people view me as a Jen because this last week I think I cried about everything.
AR:   Who do you think is in the best position to win the game?
M:    Maybe Lane. It is hard to say this early on.
It sounds like Monet won't be keeping in touch with Rachel outside of the house lol.  How do you feel about what she had to say?