I spoke to the winner of Big Brother 12 yesterday and I've got to say Hayden was so personable, and I really enjoyed talking to him.  He is such a nice guy and my favorite interview of the season.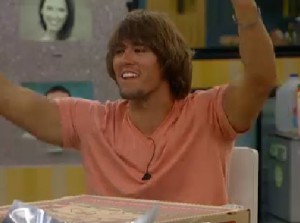 Ashli Rae:  How does it feel to win BB 12?
Hayden Moss:  It's a great feeling. I can't lie. I haven't grasped it. My mind is still racing. It hasn't hit me yet.
AR:  What's something fun you plan to buy with your money?
HM:  Every time I would start thinking about what I would do with the money, I would force myself to think about something else cause I didn't want to get let down. I want to snowboard a lot this winter. I haven't planned on buying anything extravagant. I plan on taking snowboard trips and for me, it doesn't get more fun than that. We're taking that trip to Steamboat in January, Me and Lane and Enzo. I think Britney's coming out. We're going to have a great time.
AR:  What was going through your head when Enzo was the deciding vote since you had just evicted him from the house?
HM:  I was a nervous wreck. Like I'm biting my fingernails, I'm sweating, my heart was beating out of my chest. I had just evicted Enzo. Is he bitter? Not bitter? I don't know what he's going to do. I was nervous. I think he made the right decision.
AR:  Will you pursue a relationship with Kristen outside the house?
HM:   Kristen is hot. She's a great looking girl. She's nice, she's cool. But I don't know. She lives in Philadelphia. I haven't really had a chance to talk to her. We're gonna kind of wait and see what happens. I'm going to take it step by step, one step at a time. I've got to figure out what's going on in my life and then we'll see what happens after that. Maybe. She's definitely a cool girl and obviously she's attractive.
AR:  Do you wish Kristen could have stayed in the house longer or did it turn out better for you that she left when she did?
HM:   I think it probably turned out better for me because I made it to the end, I won. Had she stayed who knows how the game would change. Looking back I wouldn't change a thing. Everything I did I would do the exact same way. Probably I would have liked her to stay in the house and hang out a little more but she didn't and I think it worked out good for me.
AR:  Even though you won, complete this sentence my big brother experience would have been better if…
HM:  I could have watched a football game on Sunday.
AR:   The vote was 4-3 with Lane, is there anyone else you felt you could have beaten had they been sitting next to you instead of Lane?
HM:  I think Enzo would have beaten me, that's why I didn't take him. I think I would have beaten Brendon and Rachel that's for sure. Matt would have beaten me. Britney probably would have beaten me. Ragan would have beaten me. I don't know why but Brendon and Rachel didn't like me in the end. They're odd people. I didn't get their strategy going into the game. Brendon was willing to give up a shot at half a million dollars for a girl he'd known for three weeks. It's crazy. I didn't get anything about those two. I'll tell you what, I was raised a little differently than them. I just didn't understand.
AR:  What is the single piece of advice, the one key thing you'd say to future players of the game?
HM:   Go in, keep your mouth shut and be yourself I think. Don't go in and make up lies. Don't shy away from anything. You've got to go for it.
AR:  Who do you think made the biggest mistake in the game, like who really blew it and ruined their game?
HM:   Brendon and Rachel. They're both smart. They're both great competitors. They put a huge target on their back with the showmance and they put a bigger target on their backs with their dumb attitude. They had a chance to come in here and win half million dollars, either one of them and had a showmance and by acting the way they acted they blew it. As soon as they came in and started a showmance and acted that way neither one of them had a chance. Even if they were the final 2 nobody would vote for them.
AR:  Do you honestly believe the brigade is the best alliance ever?
HM:  I don't know. I know no other alliance was formed that early and made it to the final 3. I think we're definitely in the discussion. Enzo will swear up and down all day long that we're the greatest ever but I'm gonna leave that up to the experts. Maybe we are, maybe we're not. I'll let the fans decide.
Hayden wishes my daughter Kristin a happy sweet 16th birthday.  She is a big fan.