Fun Update: Evel Dick will be on a special GFQ Big Brother Rewind tonight at 6PM ET to give the season a run down ahead of tonight's finale. You can join in and ask questions live here at GFQ and here what Evel Dick has to say!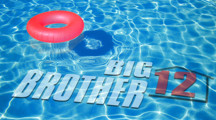 This is it. After a little over two months we've finally reached the end of Big Brother 12 and tonight at 9PM, right after the premiere of Survivor 2010, we'll be treated to the 2-hour finale.
Still ahead of us is Round 3 of the final HoH competition where Lane and Hayden will face off to decide the last Head of Household for the season. Immediately after the big competition, which I'm expecting to be a "what will the other HGs say" quiz style comp, the winner will then have to decide the final eviction. From there the Final 2 will face their greatest fear: the Jury House!
By the end of the night seven votes will be cast and one Brigade member will walk away with a half-million dollars, another with $50K, and Enzo the last with his summer's stipend. Who do you want to win at tonight's finale? I've already made my prediction and now it's time for yours! Vote in the poll for who you want to win Big Brother 12 and then tell us why in the comments below.
Sad Update: Rumors that Britney's home caught fire look to be accurate. Though statements that it all burned down are exaggerated. ArkansasOnline has info.