I spoke to Big Brother 12's Enzo today and got his thoughts on the brigade, not winning any money and what's in store for him in the future.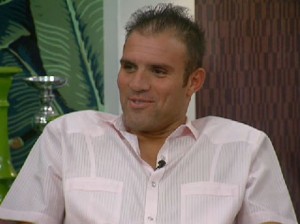 Ashli Rae:  Enzo, do you think not doing well at comps deserves criticism or credit for making it to the final 3 despite of that?
Enzo Palumbo:  I think both, I definitely deserve some criticism, I definitely should have won some competitions especially when I got to the final 3. I knew my life was on the line, I knew that none of them were going to take me to the final 2, I had to win those two competitions, 2 out of those HoH's. And then I definitely deserve praise for the way I played the house, the whole brigade, my social game. I mean I have people talking like me so you gotta be proud of that.
AR:  You keep saying you're the best at the social game in bb history, how and what did you do to play a social game?
EP:  I basically just talked to everybody, felt everybody out, no one knew what I was doing the whole time. I had a brigade that I made, with the help of Matt and the other two brigade members that were in it. So basically just my words, my sayings, my character. I was never a target, not one time. I was on the block once as a pawn, no twice as a pawn, I was never a target no one ever wanted to come after me. So there's either an intimidation factor there or I was playing the game pretty good.
AR:  Speaking of Matt, what did you think of his statement that he actually created the brigade?
EP:  I think everyone seen it who started it. It's on tape. I made the name up, I gave the nicknames to everybody. It's pretty much a done deal. I mean Hayden and Lane know who started the brigade. I'm sure Matt helped but it was my mastermind idea.
AR:  You said being away from your wife and kids was the hardest part but it would all be worth it if you won some money, now that you didn't, was doing the show still worth it?
EP:  You know if I didn't win first or second, I definitely wanted America's favorite and that hurt right there that I didn't get that. No I'm definitely proud of what I did. I think I'm gonna have a lot of fans and I'm proud of that you know?
AR:  When Rachel came back for 24 hours and told you America loved you, were you surprised to see Britney win America's Favorite HG?
EP:  I knew she was a funny girl, I was thinking maybe it was because she cracked on Rachel a lot. I think that's what won her the America's favorite.
AR:   Had Lane told you 100% he would have taken you to the final 2, would you have voted for him to win the game?
EP:  I don't think I would have. I wanted to see if he was, if I had swayed him. I think he was going to take me. But I think at that point, Hayden did a lot at the end. He took the brigade to the final 3. He won 3 or 4 challenges in a row so I had to give it to Hayden. There was no way. It was just simple math at that time.
AR:  Through everything Matt stayed loyal to the brigade even when he knew you were planning on voting him out. You said you wanted him gone because he was too close to Ragan but after seeing how close Hayden and Kristen actually were as well as Lane and Britney, do you wish you had kept Matt around?
EP:   Matt's the reason why I got put on the block. I couldn't trust Matt. I felt like I could trust him in the beginning but he was with Ragan, he was with Britney. He was trying to play the whole house. At one point, he had the brigade on one side and Ragan and Britney on the other and he used the diamond power of veto on Kathy so I was like this guy's got to go. He's doing things without the brigade knowing and I couldn't trust him at that point.
AR:  The brigade and chill town are in the same house, who wins and why?
EP:   Those guys have got a lot of experience. They played an all star season together too. They know this game inside and out. Oh man I'd like to get into an all star season and hang out with them. That would be cool and I've got to win some competitions.
AR:   What about Enzo vs. Dr. Will?
EP:   I'd have some fun with that. I like him a lot. He's a great manipulator. I'd love to be in the same house with him and go to work. I've got to learn this game a little more inside and out. I've got to win some competitions. If I had just won those last two at the end I think I would have won this thing.
AR:   What are your plans now?
EP:   I'm looking to do anything now. I'd like to do an all star season if they do one. If they do another one, I'd definitely want to do that. I'd do anything right now. If doors open up for me, I'm going to go right in the door and do what I gotta do. Definitely.