The wait is over. Here are your Big Brother 12 cast details! I'll post more pictures and videos as they become available this morning, but for now here are the details, pics, & vid for this seasons HGs. Watch them 24/7 live & uncensored!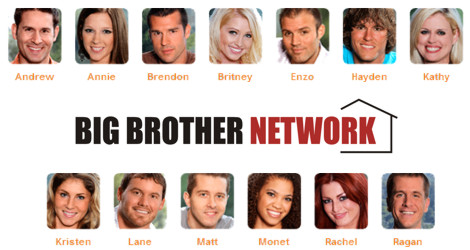 Big Brother 12 Houseguests:
Rachel Reilly, 26 – VIP Cocktail Waitress – Las Vegas, NV
Kristen Bitting, 24 – Boutique Manager – Philadelphia, PA
Britney Haynes, 22 – Hotel Sales Manager – Huntington, AR
Monet Stunson, 24 – Model – Glen Carbon, IL
Brendon Villegas, 30 – High School Swim Coach – Riverside, CA
Andrew Gordon, 39 – Podiatrist – Miami, FL
Enzo Palumbo, 32 – Insurance Adjuster – Bayonne, NJ
Kathy Hillis, 40 – Deputy Sheriff – Texarkana, AR
Annie Whittington, 27 – Bartender – Tampa, FL
Matt Hoffman, 32 – Web Designer – Elgin, IL
Lane Elenburg, 24 – Oil Rig Salesman – Decatur, TX
Ragan Fox, 34 – College Professor – Los Angeles, CA
Hayden Moss, 24 – College Student, Athlete – Tempe, AZ
Paolo Aviles, 30 – Real Estate Agent – unk
Update: Allegedly the 14th HG, Paolo Aviles, backed out during sequester and we're down to 13 for the season.
One of these 13 Houseguests will be the season's Saboteur:
click images to enlarge
I'll continue to update this post throughout the day as the HG pics and bio info is released! What do you think of the new cast so far?? As a former swim coach myself, I'm rooting for Brendon. Who is your early pick? Join us on Facebook!
Don't forget your Big Brother Feeds! Be sure to sign-up for the uncensored feeds with free trial before the price goes back when Big Brother premieres on July 8th! The preseason 33%-off discount expires on July 7th!!
I've uploaded a copy of CBS' The Early Show Big Brother segment this morning. I'll replace it with something better once it's available.
You can watch even more of the Houseguests over at TV.com with another nice little video featuring all the new season's hamsters!
CBS has also released a walk through video of the BB12 house!