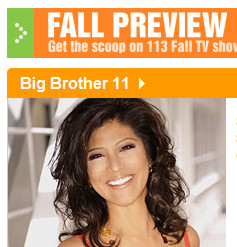 When
Big Brother
showed up last winter I was ecstatic. The WGA Strike was causing a heavy TV slump and the idea of my favorite summer show turning up during the coldest season was welcome news. Now with the conclusion of the tenth season, back to its summer appearance, the question is raised: will there be another winter BB event with
Big Brother 11
?
My first guess: no, there won't be. I love Big Brother as much as the next loyal viewer, but even with all my biased optimism I have to admit that I just don't see it happening. Stars aligned last winter to bring BB9 to the table and I don't see it happening again. With television back in full swing there won't be the gap of new programming to fill anymore. No vacancies means no winter Big Brother 11.
Even back before BB10 got started Allison Grodner, in an interview with Entertainment Weekly, said that Big Brother was a summer event and we should not expect the chance to make snow angels as we await PoV news. Nuts. But wait! (Or is that, "but first" ?)
TV Guide is already listing Big Brother 11 as part of its "Fall Preview". Oh yes, my friends, it's there with Julie Chen's smiling mugshot and all (see above). So what does that really mean? Nothing. It could be that TV Guide is simply being ready for anything and so likewise, all of us here at Big Brother Network (me), will be doing the same.
I'll be keeping an eye out and my thumb on the Big Brother 11 pulse, listening for any news. Stay tuned to the site and I'll keep you posted. Here's to hoping for more BB sooner than later!
Get Big Brother 11 news with the free Big Brother updates. Click here to sign-up for the free updates and never miss a thing.