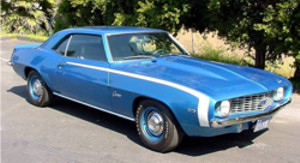 Well this is unfortunate. Remember the very first week in BB10 when Memphis was the last man standing and won that 1969 Camaro? Big Brother was kinda hoping everyone had just forgotten about that whole ordeal.
Turns out, that Camaro wasn't BB's to giveaway and when it came time for Memphis to collect on his win the garage was empty. Apparently the car was never actually purchased but seems to have just been a prop that Grodner and crew decided to giveaway on a whim.
The owner is still willing to part with the car, but now he wants $24,000 for it! If BB ponies up the cash he'll trade them the car. Hmm, maybe they could just give Memphis the $24K and let him do as he pleases. From what Brian and Steven said on the live feeds interview, Memphis would be better off with something else.
Update: TMZ now says everything has been worked out. Memphis had a chance to test drive the '69 Camaro and decided he'd rather take the cash. Nice one, Renegade!
Source: TMZ via BB Insider