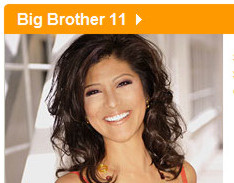 Big Brother 11 is entering the final stretch and with that last hoorah comes a shift in schedule. To make sure you don't miss any of the excitement I'm going to detail out what to expect and when it should happen based on the past seasons.
While the HGs aren't expecting anything until Thursday night the next big event will be Tuesday, Sept. 8th. That night we'll have the live Power of Veto ceremony where Kevin will use the Veto and Natalie will replace him with Jordan. Following that will be the live eviction vote with Kevin as the only voter. It's hard to tell at this stage, but he seems to still be wavering between who to keep, Jordan or Michele. I'm expecting Michele to be evicted, leaving Natalie, Kevin, and Jordan as the Final 3.
After Tuesday's live eviction we'll have an immediate rush in to the Final 3 HoH competition. The final HoH competition is three-pronged like this fork. Oh, wait you can't see my breakfast fork, but here it is all shiny and sporting three-prongs. The first part of the competition will be on Tuesday night and is an endurance competition between all remaining HGs. You won't want to miss this event on the live feeds. In Season 8 this battle went on between Evel Dick and Zach for over 8 hours and yes, I stayed up for the whole dang thing. Natalie has said she'll throw this to Jordan, but we'll have to wait and see what happens.
Part 2 of the F3 HoH battle will be a physical/mental challenge between the 2 HGs who lost out in round 1. Round 2 will likely play out on Wednesday in the house. The winner of this round will face off against the winner from the first round in the next and last part of the overall competition.
The third and final round will be live on Thursday night's episode and is usually a series of clips with the Jury House where the players have to guess how they'll finish their sentences. The winner of this last round will then immediately cast the final eviction vote leaving just 2 HGs to face off on the Big Brother 11 season finale the following Tuesday (Sept. 15).
Don't forget that with Chima's expulsion America took on her responsibility as the 7th jury member vote. We should be able to vote for the HG of our choice to win sometime starting Thursday night. Please remember that you'll be playing the responsible role which Chima could not, so no cursing, breaking things, or temper tantrums like a toddler!
Now that you're armed with what to expect be sure to get your Live Feeds ready to go for Tuesday night's live endurance battle. If you don't have the Live Feeds yet, then no worries because you can still get signed up now and watch the rest of the season play out along with the rest of us Big Brother fans!
So let's hear it! Who do you want to win and who do you think will be in this season's Final 2? Share your thoughts and ideas below.