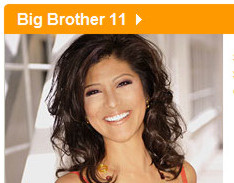 Tonight on
Big Brother 11
we'll have our eighth eviction in the BB11 season where either Jeff or Jordan will be sent to the Jury House.
Tonight I'm hoping we'll learn more about the speculation on a return of Russell as part of the Pandora's Box game twist. It could all fall flat, but there's so much pointing toward something strange happening that I think we could have a very exciting live show tonight. I'll have it posted here as soon as it happens either way.
Don't forget to join us tonight in the Big Brother Chat Room during the eviction show at 8PM EST! We'll all be in the chat room again having a great time discussing it as it happens!
Vote in the poll below on who you'd want to be evicted and then share your thoughts and tell us why in the comments section.
Meanwhile, get your Big Brother 11 live feeds ready so you can watch the house react uncensored to who is evicted and who becomes the new Head of Household. If you don't have the live feeds yet you can still get the Free Trial discount. That along with your monthly $10 in free mp3s with your subscription and you're getting a really good deal. Try it for free. Keep it for fun!
Be sure to sign-up for the free Big Brother email updates, register for the Big Brother Forum, follow us on Twitter, and grab the free Big Brother Toolbar.