Update: Tonight's intro just played and Russell's name was gone and his exit clip had returned. Was it just a production error on Tuesday? We'll know soon…
Big Brother conspiracy theories are what keep BB fans warm between episodes. This week is no different with the introduction of the "Russell to return" theory. Best of all Allison Grodner seemed to drop the giant clue right in front of us on Big Brother 11 this week and I'll show you what many of us are thinking and why.
As the tradition goes, when a HG is evicted from the game their name is removed from the Big Brother introduction and their picture is changed to their exit event. I present to you Exhibit A: a screen capture from Sunday, August 30th's introduction. Note Russell's exit from the house paired with the removal of his name, matching that of Braden and Chima (snicker, her exit is through the Diary Room, snicker).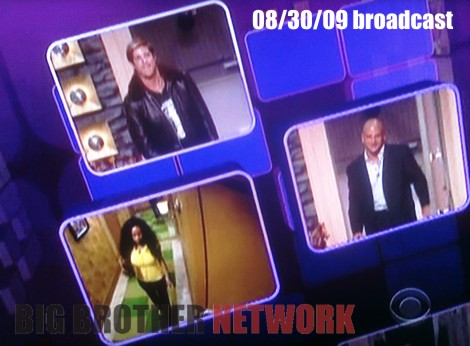 Exhibit A maintains the status quo on post-eviction HGs. Exhibit B shatters it.
Broadcast on Tuesday, September 1st we see Russell's name has returned and not only that but his exit scene has been replaced with the old clip of him posing in the backyard. Hmm, well that's different!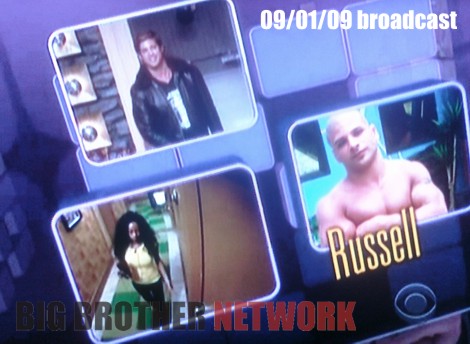 So what does this all mean? If I had to formulate a theory (I don't, but I will) I would speculate that we're about to see a repeat BB9's surprising twist where one evicted HG (James) returned after the remaining HGs were posed with the choice to retain that night's evicted HG or gamble with whoever was inside the magical box. To make this even easier we already have a box in the game: Pandora's Box.
Many fans felt the Pandora's Box twist died too quickly and I'd agree. Jeff's key did nothing to save him, but that doesn't mean the twist has to be over. When, and I fully expect it to happen, Jeff is evicted on Thursday I think we could be seeing the return of either Jeff or Russell depending on what is decided in the house. This gets even trickier because I believe if this choice has to be made it will be Kevin who has to do it. I can't wait to see it all play out on the big brother feed since it's all uncensored.
When the next HG is evicted we'll be at an even count, so a vote for "keep Jeff or take whoever is in the box" would likely be met by 2 votes to keep Jeff and 2 votes to send him on out. If that choice has to be made by Kevin then I'd expect him to stick to the evict-Jeff plan and take his chances with whoever is in the box (most likely Russell as discussed above).
Could this all be excessive speculation? Absolutely. Maybe someone in production completely hosed things on Sunday and played the wrong introduction clip. Possible? Sure, it's possible but I really, really doubt an accident like that could have slipped through. I fully believe this was an intentional sneak peek at what was ahead. If it is then settle in for an awesome Thursday night!
Think I'm right? Sure I'm wrong? Tell me! Debate it out in the comments.
Update: Just for the record, I'd vote for Russell to return over keeping Jeff. Jeff had his chance and he blew it, badly. Russell was collateral damage when Jeff self-destructed and as such I'd give Russell the second chance. What about you?