The Power of Veto Ceremony is over in the Big Brother 11 house and fights are exploding right now on the live feeds! To find out if the PoV was used click "continue reading" for the spoilers…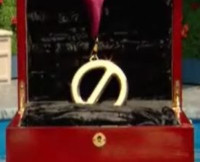 Jeff, the winner of this week's PoV, did just what we expected he'd do: nominated Russell as a replacement to Kevin. Come Thursday night either Natalie or Russell will be heading to the Jury house and with nothing to lose Russell is ready to go out swinging just like he promised!
Right now Russell is not taking his backdoor nomination by former alliance member Jeff well at all. Whoa! It's getting very verbally violent with Jeff threatening Russell and its being returned. Now Jordan is getting into the fight! You've got to watch what's happening right now on the live feeds and try it for free.
Update: The fighting has calmed for now, but if you use the Live Feeds Flashback feature you can still see all the action. Just roll back the time to 1:10PM BBT on Cam 1 to see it all. I'm sure there will be plenty more of that to come!
What do you think? Which of these two should be sent packing on Thursday's live eviction night: Russell or Natalie? Share your thoughts below.
Be sure to sign-up for the free Big Brother email updates, register for the Big Brother Forum, follow us on Twitter, and grab the free Big Brother Toolbar.