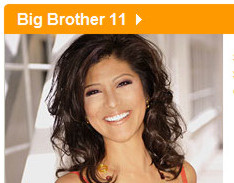 Tonight on Big Brother 11 we'll have our seventh eviction in the BB11 season where either Natalie or Russell will be sent to the Jury House.
From what Russell showed us yesterday in the house I think it's clear that he expects to be evicted and he doesn't want to go quietly. Keep your live feeds handy as I imagine he'll make his last few hours memorable for all.
There are rumblings in the BB11 house that tonight could be another endurance competition so be ready to watch it play out on the live feeds right after the live broadcast ends (9PM EST). I'll be here updating if an endurance HoH happens.
Update: Chelsia Hart (on behalf of SuperPass) just tweeted, "Get ready for a looong night peeps!! :) Have your live feeds up and ready before the CBS show ends so you don't miss a beat!" Sounds like it's an endurance comp coming our way! Do as Chelsia says and get your Live Feeds ready! Sign-up here with the free trial.
Vote in the poll below on who you'd want to be evicted and then share your thoughts and tell us why in the comments section.
Don't forget to join us tonight in the Big Brother Chat Room during the eviction show at 8PM EST! We'll all be in the chat room again having a great time discussing it as it happens!
Meanwhile, get your Big Brother 11 live feeds ready so you can watch the house react uncensored to who is evicted and who becomes the new Head of Household. If you don't have the live feeds yet you can still get the Free Trial discount. That along with your monthly $10 in free mp3s with your subscription and you're getting a really good deal. Try it for free. Keep it for fun!
Be sure to sign-up for the free Big Brother email updates, register for the Big Brother Forum, follow us on Twitter, and grab the free Big Brother Toolbar.