Rumor Update: Buzz is building that tonight could be an endurance competition. If it is then be sure you're signed up and ready so you can watch it all on the live feeds and discuss it in the Big Brother Chat Room with us! We'll be here until it's finished.
Speculative Update: Looks like it will be an endurance comp as the HGs are gearing up in athletic clothes. This is interesting because we usually get 2 endurance comps a season with one already done and the second usually being at the Final 3. That means Big Brother is dumping its usual cycle to suddenly introduce a third HoH endurance competition. As such, I would pose this question: During the previous endurance competition, who were the 4 best players (longest lasting) and who were the 3 worst players (shortest lasting)? Oh my, well look at that…
If BB holds an endurance comp tonight one could easily argue production is tilting the comp to Team Jeff/Jordan/Michele/Russell. What do you think?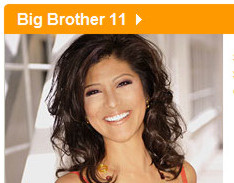 Tonight on
Big Brother 11
we'll have both the live Power of Veto competition and ceremony followed by our sixth eviction in the BB11 season. After last week's fiasco featuring the
fury of Chima
I'm glad to see a return to the usual routine of the live eviction. But there won't be anything routine about tonight's show as
I mentioned
with both the eviction and the PoV events all taking place within one fast hour.
Normally I'd offer up a poll for who you'd vote to evict this week, but without the PoV results the nominations are still wide open and anything can happen. So instead this poll offers up everyone but Jeff, because come on, would Jordan actually nominate him? No way. Vote in the poll below then tell us why.
Will Jeff and Jordan betray Russell and backdoor him as they've secretly discussed? Can Natalie's new deal with Jeff keep her safe? Will Captain Unitard live to fight another day? The only thing I know is that I can't wait for tonight!
Meanwhile, get your Big Brother 11 live feeds ready so you can watch the house react uncensored to who is evicted and who becomes the new Head of Household. If you don't have the live feeds yet you can still get the Free Trial discount. That along with your monthly $10 in free mp3s with your subscription and you're getting a really good deal. Try it for free. Keep it for fun!
Be sure to sign-up for the free Big Brother email updates, register for the Big Brother Forum, follow us on Twitter, and grab the free Big Brother Toolbar.