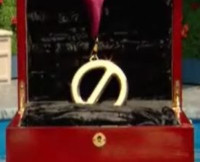 Tonight on Big Brother 11 we'll see what happened in the PoV competition and have confirmed to us who won the golden medallion. Of course, if you've been following the spoilers here then you already know all of that.
The tension and stress are high in the house right now as the pressure mounts while Thursday's Big Brother eviction creeps closer. If you haven't been watching the feeds then you've been missing the real game. You can catch it all on the live feeds new Flashback feature which lets you jump to any day and any time in the season. Yeah, it's pretty awesome. Try it for free and then keep it for just $13/month.
What's that? You don't have the free Big Brother Toolbar?? Get it now and stay connected with the latest news and discussions. It's free, fun, & easy:


Stay connected to Big Brother 11 with free updates by Email, RSS, and Twitter.