The Power of Veto Ceremony is over in the Big Brother 11 house. To find out who won click "continue reading" for the spoilers…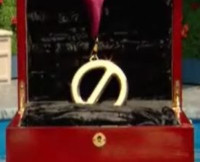 Jeff is the winner of this week's PoV competition. Jeff was nominated by the new HoH, Ronnie, so he will be able to save himself, leaving Ronnie to find a replacement nominee to fill the void.
Jeff faced off against Laura, Ronnie, Russell, Natalie and Casey in today's Power of Veto competition
What do you think? Who will Ronnie most likely put up and who would you most like to see nominated in Jeff's place. This is of course assuming Jeff wants to use it, but unless he doesn't need $500,000 I think he will.
You can also check in on the house and see what's happening right now on the live feeds and try it for free and get the 13% discount before it expires.