Tonight on Big Brother 11 the results of the season's second live eviction will be revealed along with the results of the third HoH competition. Join us right now in the chat room for discussion of everything going on through the live show.
I'll be updating this post here with the eviction and HoH competition results. Meanwhile, join us in the chat room as we tear apart tonight's live episode!
Live Eviction voting: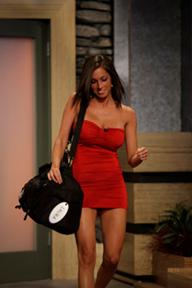 Jeff: Votes to evict Laura
Jessie: Votes to evict Laura
Natalie: Votes to evict Jordan
Casey: Votes to evict Laura
Russell: Votes to evict Laura
Kevin: Votes to evict Laura

That's it. Laura has been evicted.

Chima: Votes to evict Laura
Lydia: Votes to evict Laura
Michele: Votes to evict Laura
By a vote of 8 to 1, Laura has been evicted from Big Brother 11!
HoH Competition – 'Buzz Worthy':
Jessie is in the lead. Michele, Natalie, Lydia, Russell, Chima, Jordan, Casey, and Kevin eliminated…
Jeff ties Jessie
Tiebreaker round: Jessie hits a 6 and Jeff nearly gets a 7 but misses…
Jessie wins. I feel ill.
Jessie is HoH again. Damn. Now that Jessie has a deal with Ronnie I imagine the Rat won't be going home this week after all. Damn again.
How did tonight's results impact your Big Brother 11 predictions in the Amazon gift card giveaway? You can keep entering with new guesses each week, so don't give up yet!
Once the live show is over the live feeds turn back on. You can get the 24/7 uncensored feeds at a limited time $13/month discount rate. So far I've definitely not been disappointed with the show these HGs have been putting on!
Be sure to sign-up for the free Big Brother email updates, register for the Big Brother Forum, follow us on Twitter, and grab the free Big Brother Toolbar.