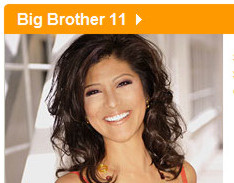 Tonight on Big Brother 11 we'll have our second live eviction for the season as either Laura or Jordan will be evicted. Ronnie's week as Head of Household will be a memorable one, but definitely not for what he achieved. He may have succeeded in snuffing out the one player that caught on to him the fastest, Laura, but he pushed the limits and now faces his own imminent eviction.
I'll be sorry to see either of these two players leave tonight though I think it's definitely going to be Laura. Either way, I think the real losers here tonight will be the Big Brother 11 live feed viewing public. At least if Jordan stays we'll have lots more of her proud naked moments. Okay, I feel better now.
Here's your chance to vote for who you would want to evict if you were a HG this season. Cast your vote in the poll below and then leave your comment to tell us why you want to see either Laura or Jordan go home. Don't forget to join us tonight in the Chat Room during the live eviction show at 8PM EST.
Meanwhile, get your Big Brother 11 live feeds ready so you can watch the house react uncensored to who is evicted and who becomes the new Head of Household. If you don't have the live feeds yet you can still get the $13/month discount rate. That along with your monthly $10 in free mp3s with your subscription and you're getting a really good deal. Try it for free. Keep it for fun!
If you've got a question for tonight's evicted HG then send it on to Ross Mathews at "Inside Dish" by email: insidedish@cbs.com. Be sure to include your phone number and question and you might get called to talk with the evicted HG. Ross will have the ex-HG live in his studio right around 9:30PM EST so don't miss it!
Be sure to sign-up for the free Big Brother email updates, register for the Big Brother Forum, follow us on Twitter, and grab the free Big Brother Toolbar.