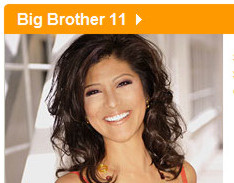 Tonight on Big Brother 11 we'll have our first live eviction for the season as either Braden or Chima will be evicted. So far an overwhelming majority of you want Chima gone, but up until yesterday evening it looked like a lock for sending Braden home instead. "But first," before that can happen it seems Jordan has worked her magic and Braden just might be saved!
ChiBrad has a great recap here in the Diary Room where he shows how things have shifted in the house. Jordan, Jeff, Laura, Ronnie, and Michele were convinced to keep Braden over Chima, but that would only leave them with a 5-5 vote and Jessie would break the tie, sending Braden home. The last vote they needed was Casey and it sounds like they may have it. Wow!
The big unknown right now is how the rest of the day plays out in the house. Considering how much things shifted overnight we could see even more of that on the live feeds today leading up to the live vote. If the meat heads get wind of what's about to happen then be prepared for another Russell rampage!
So tonight after the live eviction, since we won the Live Feeds contest, Big Brother Network will be hosting an exclusive web chat starting at 9PM EST here in our Chat Room with the hosts of "Express Lunch," Chelisa (BB9) and Missy, joining us to take your questions and give their reactions to tonight's eviction.
Everyone is welcome to join in this exclusive chat. You won't have to register to pose a question to Chelsia and Missy, just stop by at 9:00PM EST and join in!
Meanwhile, get your Big Brother 11 live feeds ready so you can watch the house react uncensored to who is evicted and who becomes the new Head of Household. If you don't have the live feeds yet you can still get the $13/month discount rate. That along with your monthly $10 in free mp3s with your subscription and you're getting a really good deal. Try it for free. Keep it for fun!
Here's your last chance to vote for you who want to see evicted tonight on Big Brother. Be sure to sign-up for the free Big Brother email updates, register for the Big Brother Forum, follow us on Twitter, and grab the free Big Brother Toolbar.