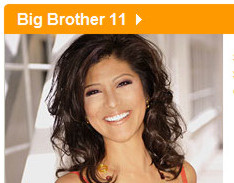 Now that Big Brother 12 is down to its final week it is time for the inevitable clip show featuring the season's "best of" moments. While I'm never a huge fan of these shows it's still something to watch on a Sunday evening and likely something ideal for those who missed events through the summer.
Considering we still have three HGs in the house leading up to the finale, a first since Big Brother 1, I would have hoped for them to take advantage of this and give us some new material. I'll be pleasantly surprised if we get a mix of new and old, but won't hold my breath.
Meanwhile, don't forget to vote in our poll for who you want to win America's Vote as the 7th Juror. Then check back Tuesday night for the results of the 2-hour Big Brother season finale. I'll be right here revealing it all live!
What's that? You don't have the free Big Brother Toolbar?? Get it now and stay connected with the latest news and discussions. It's free, fun, & easy:


Stay connected to Big Brother 11 with free updates by Email, RSS, and Twitter.