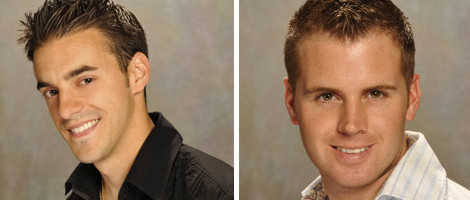 After two months of alliances, lying, scheming, and backstabbing we have finally reached the end of Big Brother 10. After evicting 11 of their fellow houseguests only Dan, the school teacher, and Memphis, the mixologist, remain to face off for the half million dollar prize. These Renegades began their alliance in week 4 and, despite their ups and downs, have remained faithful to their promise to reach the end together. Now it's time for the BB10 Jury to decide which one has played the better game and deserves to be crowned the winner.
It's no secret that Dan has made a lot of enemies in this game. His methods and motives may have been effective, but they weren't always clean and it could end up costing him. Did he send more than 3 angry HGs to sequester?
Memphis' game has been quieter and kinder, but was his passive approach sometimes too passive for the jury to consider him worthy of 4 votes?
All it will take for either HG to win is a mere four of the seven available votes. While past seasons have presented an option of selecting the lesser of two evils, this time around they'll have to select from one of two renegades whether they like it or not. Before I break down my vote predictions let me note that I'm a Dan fan, so perhaps my own hopes have biased my perceptions.
Libra: Ostracized from her original alliance she has no loyalty to either remaining HG. I think she'll be more impressed by Dan's gameplay and will vote accordingly. She'll vote for Dan.
April: She'll be voting in-line with Ollie and considering Dan's betrayal of Ollie I don't think there's any way that April won't vote for Memphis.
Michelle: Evicted after Dan went back on his word with Ollie, Michelle was quite vocal over her exit. Was Dan's wise choice to take her to the beach enough to buy back her vote? I think it was and am expecting Michelle to vote for Dan.
Ollie: Any discussion here? Dan betrayed Ollie. He'll vote for Memphis.
Renny: Renny never liked Memphis much and voiced her desire to see him gone throughout the game. Combined with her motherly relationship with Dan I only see her voting in favor of Dan.
Keesha: Evicted by Memphis she left with harsh words for her executor. Will the realization that Dan manipulated her situation change her vote? I doubt it. Keesha will vote for Dan.
Jerry: Judas, anyone? Jerry thinks Memphis was really trying for him and he'll vote in his defense.
My prediction for Big Brother 10: Dan wins by 4-3 over Memphis. You?
Don't miss your chance to win a "TAKEN" BB10 shirt just like Dan's!
Watch the Renegades live and uncensored in the final days – Free Trial
Get Big Brother 10 spoilers with the free Big Brother updates. Click here to sign-up for the free updates and never miss a thing.