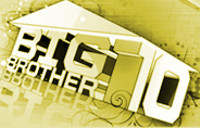 Welcome, Big Brother 10 fans! Tonight will be the second most exciting night of the season as we'll watch the Final Two of BB10 lock-in their winnings of at least $50,000.
Who will win tonight in part 3 of the final HoH competition when Dan, the winner of part 1, and Memphis, the winner of part 2, face off? Let's find out!
Meanwhile, don't miss your chance to win one of Dan's "TAKEN" t-shirts!
Just like BB9, we'll have the chance to vote on America's Choice for which jury member will win an extra $25,000. I'm voting for Renny!
Final HoH Competition: "What did the HG say?"
Question 1: Dan gets a point
Question 2: Memphis gets a point
Question 3: Both get a point
Question 4: Neither get a point
Question 5: Dan gets a point
Question 6: Dan gets a point
Dan is the final HoH!
Live Eviction:
Jerry has been evicted from the Big Brother 10 house.
Dan and Memphis, The Renegades, are the Final Two for BB10! Sunday's episode will be a clip show from the season. Tuesday will be the big finale.
Watch the Renegades live and uncensored in the final days – Free Trial
Get Big Brother 10 spoilers with the free Big Brother updates. Click here to sign-up for the free updates and never miss a thing.