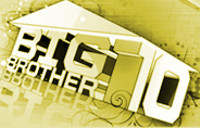 This is a reminder for all Big Brother 10 fans. Tonight on CBS BB10 will not air at its usual time of 9pm, but instead will be an hour earlier at 8pm. Not only that but tonight's episode will be no usual Tuesday event. Tonight will be non-stop action as we'll be treated to the PoV comp, ceremony, live eviction, and the start of the first of three competitions for the final HoH.
Yes, that's right. We're so close to the end of this season that we'll be starting the final leg of the three part end game tonight. But before we can get there's a little matter to take care of: eviction.
Memphis is the holder of all the power this week. He scored the Power of Veto, giving himself the option to save himself from eviction, which he will, and then wield the solo vote of the night. Memphis' option will be to either evict Jerry or Keesha. Initial plans had Jerry slated for eviction but things have a way of changing in that house.
Tonight when Memphis reveals his vote, expect Keesha to be on the receiving end and watch her walk out the door to the jury house. Once she's gone the three remaining players, Jerry, Dan, and Memphis, will head out back for the always intense, final endurance competition. I'll be recapping the whole thing live, here on Big Brother Network, so come back and chat with us throughout it here in the comments section. Last time we had over 400 comments in what was a very fun back and forth discussion. Don't miss it!
The plan between Dan and Memphis is that Jerry will be easier to defeat than Keesha in the final two physical competitions. So as long as they can lock down parts 1 and 2 the Renegades will have secured the Final Two.
Watch the Renegades live and uncensored in the final endurance – Free Trial
Get Big Brother 10 spoilers with the free Big Brother updates. Click here to sign-up for the free updates and never miss a thing.