It's a big night on Big Brother 10. First we'll see the playback of the last Power of Veto competition, which we already know ends with Memphis pulling out the victory (though I've heard Dan threw it to him). That will be followed by the live PoV ceremony where it can be safely assumed that Memphis will save himself and Dan will nominate Keesha in his place. Then we'll have the live eviction with Keesha expected to leave. Finally we'll watch the launch of part 1 of the 3 part HoH competition with a fierce endurance battle. We should be able to watch the rest of that endurance comp on the live feeds.
I'll be updating this post live during the East coast broadcast and all night until the comp is over, so keep refreshing the page for the latest BB10 updates.
Power of Veto Ceremony results: Memphis has used the PoV and Keesha replaces him on the chopping block.
Jerry and Keesha both plead their case before Memphis makes his decision. Keesha refuses to address Memphis and instead thanks Dan for his support and wishes him good luck.
Live Eviction voting:
By a vote of 1 – 0, Keesha has been evicted from the Big Brother 10 house.
Watch the HoH competition live and uncensored right now – Free Trial!
HoH Competition – "Wing and a Prayer" – Endurance style:
5:50PM BBT – We've got our first glimpse of the endurance comp. There are three bi-planes in the backyard. If they just have to sit and not hang on then Jerry might last longer than 10 minutes!
5:53PM BBT – The competition has begun. The planes are lifted into the air as Jerry, Memphis, and Dan are standing atop the wings. Each HG is holding on to ropes to keep their balance. I'm expecting these to really start rolling.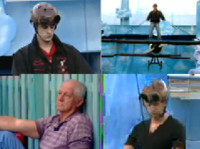 6:00PM BBT – Waiting for the live feeds to turn back on.
6:09PM BBT – Feeds just turned on and Jerry is already out!!
6:15PM BBT – Dan and Memphis remain in the competition. Dan is telling himself to "watch the nose of the plane" as it dips and rises. Jerry watches the pair from the sidelines. He looks defeated. Memphis and Dan aren't talking to each other just now. I imagine they're waiting for Jerry to be let inside so they can discuss a deal on dropping. Last endurance, BB waited a long time before unlocking the door.
6:20PM BBT – Dan just told Memphis, "if it ain't rough, it ain't right. It's gonna be a long night, Memphis." I think he's still talking it up as a front to Jerry.
6:25PM BBT – Still silence between the boys. Jerry is watching as BB blows heavy wind and probably rain at them. Dan yells at Memphis, "I bet you wish you had Jerry's windbreaker." Jerry had offered Memphis his windbreaker earlier in the week for this competition.
6:30PM BBT – Dan continues to talk to himself, reminding him of things to stay sharp. BB keeps the heavy wind and rain coming.
6:35PM BBT – The boys are staying strong. Memphis looks perfectly content up there, but he's just got a t-shirt while Dan has his jacket again. Smart kid.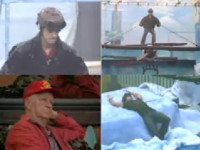 6:45PM BBT – Memphis and Dan are still in the game. BB keeps the wind blowing and the planes moving. This could go on longer than I thought!
6:46PM BBT – It's over!! Memphis just dropped!
Dan is the winner of Part 1!
Watch the Renegades plot their next move live and uncensored – Free Trial!
Tomorrow Memphis will face off with Jerry in Part 2 of the 3 part final HoH competition. If Memphis beats Jerry then the Final 2 will be secured with him and Dan. Way to go Renegades! Keep checking back here for all the spoilers.
Don't want to stay up all night? Sign up for the free BB10 email updates and get the Endurance and HoH results in your Inbox!