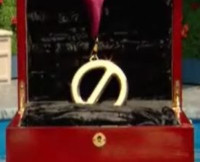 The Power of Veto competition took place overnight, again, in the
Big Brother 10
house.
Dan had nominated Memphis and Jerry
, but with this week being all about the Power of Veto this is the only even that will really matter.
Winner of Week 9 PoV is: Memphis
Sounds like Dan threw the comp to Memphis, but the Mixologist himself doesn't know that. Smart move on Dan's part though because that makes Memphis the one vote this week. Dan is hoping that'll divert final emotional attacks from him if he makes it to the F2 w/ Memphis.
The real danger now is for Keesha. Memphis & Dan are discussing sending her packing and keeping Jerry around! Wow. Smart move? Too soon to tell.
The PoV ceremony will take place live on Tuesday's episode along with an eviction. In the meantime watch the Renegades live and uncensored ($5 off & Free Trial).
Get Big Brother 10 spoilers with the free Big Brother updates. Click here to sign-up for the free updates and never miss a thing.