Update: NBC sent over a stack of cool giveaways, including "The Office" board game. Want it? It's yours. Details here and here.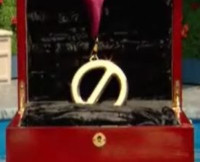 This week's Big Brother 10 Power of Veto ceremony is over and it went just as I expected.
Memphis, the winner of this week's PoV, used the veto, forcing Jerry to select the one and only HG available for replacement nomination: Renny.
As the plan sits now Renny will be evicted Thursday. Can she talk her way out of it?
Don't miss the final stages of Big Brother 10. Watch the action live and uncensored ($5 off & Free Trial).
Get Big Brother 10 spoilers emailed to you with the free Big Brother updates. Click here to sign-up for the free updates and never miss a thing.