Update: Here's a second chance for you to win The Office board game from NBC. Details here. Lucky you!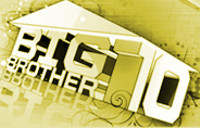 The next eviction is just a day away. Keesha and Renny stand poised on the edge of the end of their game with just the votes of Dan and Memphis in the way. Things looked pretty set in stone over the weekend once we knew that Memphis had secured the Big Brother 10 Power of Veto. Has that situation changed? No.
Keesha is still nervous, while Renny has all but resigned herself to head to the jury. There have been a few discussions amongst them over who would be best to keep around a few days longer, but no one seems to be budging. What I can't believe hasn't come up is the possibility of Dan and Memphis forcing Jerry to break a tie and get some blood smeared on his hands. Perhaps they don't trust Jerry to keep Keesha over Renny, but would that really matter?
In other "Jerry news", the current HoH finally came to the realization that he will not be allowed to compete in this week's HoH. Why exactly did he think this? When there are just three HGs remaining that week is when we'll see the outgoing HoH come back to compete again. Jerry just got his week's mixed up. It looks like losing to Jerry in last week's HoH was the best thing the Renegades could have done after all!
The Big Brother finale will be on September 16th so there's not much time left for the remaining HGs to fend off one another for the half million dollar prize. Which one will come out on top? We'll know soon!
The countdown to the final key has begun. Watch the action live and uncensored ($5 off & Free Trial) as the HGs struggle to dodge eviction.
Get Big Brother 10 spoilers emailed to you with the free Big Brother updates. Click here to sign-up for the free updates and never miss a thing.